With the arrival of the all-new, next-generation Toyota Land Cruiser J300 for the 2022 model year came some pretty shocking news – this long-running icon would no longer be sold in the U.S. – only other, select global markets. At that time, it seemed hard to believe, even though the Land Cruiser had become a large, luxurious, pricey, and low-volume seller in the U.S. in recent years. However, it wasn't long before a next-gen Toyota Land Cruiser was confirmed for the states, and now, that very vehicle has been officially teased by the automaker itself.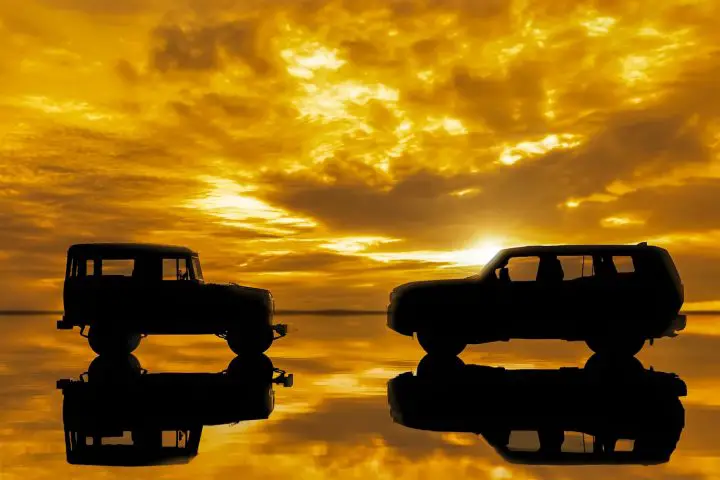 The reasoning for this split is quite simple – while the Land Cruiser, in its current guise, sells well in other markets, Toyota wants to create something different for the U.S., a vehicle tailored specifically to its boxy, old-school, off-road-loving customers. As such, the new American Land Cruiser will look a lot different than the J300, bearing the same boxy lines as the recently-revealed 2024 Lexus GX, albeit with some heavy influence from the J60 of the 1980s, which the automaker just so happened to include in this teaser, too.
Between these two teasers, we get a good preview of what to expect from the new Land Cruiser in terms of styling, and it's following the same recipe that the sixth-generation Ford Bronco has ridden to success – incorporating retro cues into a modern package. The SUV's aggressive front end certainly portrays a rugged look, one that's quite different from its more mainstream predecessor.
View this post on Instagram
While details about the new Land Cruiser remain scant, some believe that it will also shrink a bit in the U.S., though that's unclear if it is in fact based on the 2024 GX, which is a full-size SUV. Otherwise, the new Land Cruiser is expected to be powered by the same twin-turbocharged 3.4L V6 as the GX, potentially adding a hybrid option later down the road, with multiple off-road-focused trim levels and variants available to boot. While we'll undoubtedly be treated to more teasers in the coming weeks, as the new Land Cruiser will be officially revealed on August 1st at 9:20pm ET – bringing yet another off-road-focused SUV to a hungry market.
We'll have more on everything Ford's competition is up to soon, so be sure and subscribe to Ford Authority for ongoing Ford news coverage.