The Ford Mustang has long been a popular target on the internet for the fact that, well, lots of people tend to crash them while driving in a spirited manner. This is certainly no fault of the car itself, and pretty typical for any powerful, rear-wheel drive performance-focused machine, and yet, the pony car has earned this unsavory reputation, regardless. However, these types of Mustang-related acts aren't just reserved for other vehicles and crowds – we've seen the pony car have at least one run-in with a train before. Now, yet another, similar incident has occurred with an S550 Ford Mustang, but thankfully not one that involves an actual train – just the tracks that they ride on.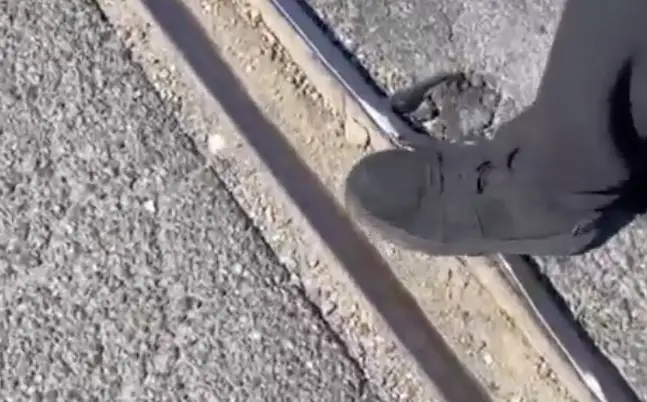 In this video from the Instagram page Mustang Zones Only, we get to see only the aftermath of what happens when a lowered S550 Ford Mustang crosses over train tracks, and it's not a pretty scene at all. Apparently, when the car crossed the tracks, its exhaust snagged on the recessed metal piece and proceeded to rip the entire rear bumper off, as well as put a sizable dent in the track itself.
Aside from being lowered, this S550 Ford Mustang has a few other mods that we can spot, including a red decklid badge, a rear spoiler, and clear taillamps, which are present on European versions of the pony car, yet also available via the aftermarket. In fact, Ford just added this particular part to its own catalog a little over one year ago.
View this post on Instagram
While this incident serves as a cautionary tale for anyone wanting to lower their vehicle, there may come a day in the future when the vehicle itself may actually warn the driver that body damage has occurred. In fact, Ford filed a patent for a missing vehicular body part detection system in April 2022, which is capable of detecting when body parts are missing from a vehicle.
We'll have more wild videos like this to share soon, so be sure and subscribe to Ford Authority for more Ford Mustang news and non-stop Ford news coverage.