Back in late 2021, Ford BlueCruise failed to impress Sandy Munro, a former Ford engineer and current owner of Munro & Associates, an engineering consulting firm. He wasn't thrilled with its functionality, especially its inability to handle sharp curves without driver input. He's decided to give it another go now that the feature has been updated, and his colleague, Cory Steuben, takes it for a spin now, and finds that it's far improved over its first iteration.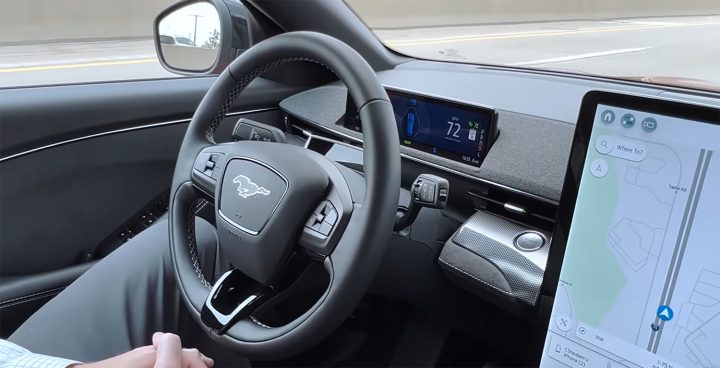 Steuben takes control of a Ford Mustang Mach-E for this test. On the road, he sets BlueCruise at his desired speed with adaptive cruise control activated, meaning the vehicle will scan surrounding traffic and adjust its speed accordingly. He notes that he's a bit concerned about how the system will handle the sharp curves on the interstate he's currently driving, referencing its struggles the last time they attempted the same.
It handles just fine on the interstate, so he decides to put it to the test by pulling onto a two-lane highway. He remarks that Sandy felt that the system had a bias to the right when he tested it, and acknowledges that he feels the same. "It's holding its position in the road," he says, though. "It's not ping-ponging left or right… it has a nice command and feel of the road."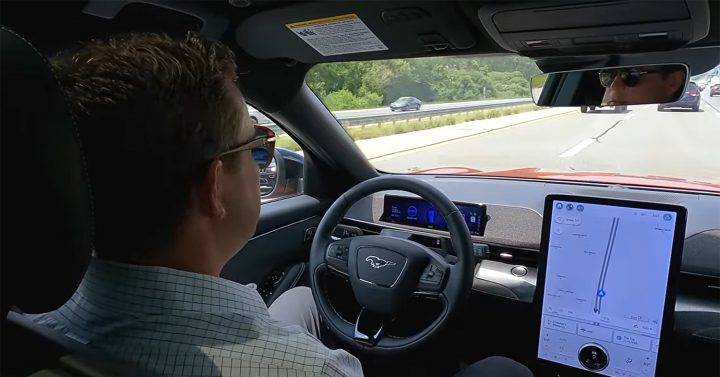 Moreover, it handles a relatively sharp curve with ease, indicating that Ford BlueCruise has been improved to the point that such maneuvers are possible. Considering the notable improvement that BlueCruise 1.2 represents over its predecessor, it's no surprise that Steuben finds it satisfactory.
The Ford Bluecruise 1.2 update added lane change capability and Predictive Speed Assist, along with a more natural driving experience involving in-lane positioning and overall behavior when encountering trucks or other vehicles. Rollout began on the Ford Mustang Mach-E last fall.
We'll have more on BlueCruise soon, so be sure and subscribe to Ford Authority for continuous Ford news coverage.