At this point, it seems like we've been waiting a very long time for the impending launch of the Tesla Cybertruck to actually happen, a sentiment clearly shared by the million-plus people who reserved one years ago following the EV pickup's debut in 2019. Since then, we've been treated to a few updates and hints at design changes, as well as the construction of the automaker's new Gigafactory Texas production plant. The Tesla Cybertruck was originally slated to launch by the end of 2021 but has instead faced multiple delays, though the Ford F-150 Lightning competitor has finally entered production, with one unit rolling off the assembly line just last week. Several Testa Cybertruck prototypes have since been spotted wearing different types of camo recently, but none are as puzzling as this one, which was caught sitting in a shop with a Ford F-150 wrap covering its flanks.
I am…. Confused. But enjoy this shot. @elonmusk troll level 69420

Cybertruck wrapped like an ICE F150 with its hood up. 🥸 pic.twitter.com/MQGXU0GmLD

— Greggertruck (@greggertruck) July 23, 2023
There are a couple of reasons why Tesla might want to make its very unique EV pickup look like a Ford F-150, of course. This could be a simple case of trolling on the automaker's part, poking fun at the F-150 Lightning's more conventional appearance when compared to the wild, angular Cybertruck. It could also be a way to help disguise the prototype and make it blend in a bit more with the crowd as well, though it's tough to do that, in all fairness.
In any event, this is an interesting development given Tesla CEO's previous remarks that pickup trucks have gotten "boring" in recent years. Perhaps even more interestingly, we can clearly see the frunk area of this Cybertruck for the first time as well, which doesn't appear to be quite as volumeous as the one present in the F-150 Lightning.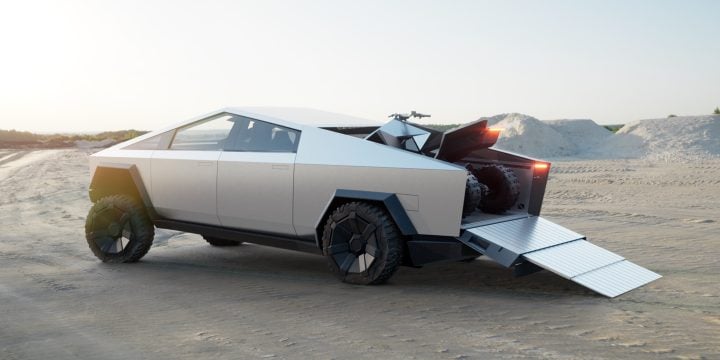 In the meantime, the Tesla Cybertruck – which Ford CEO Jim Farley recently said is a vehicle built "for Silicon Valley people," has watched much of its competition launch and go on sale over the past few years. That includes F-150 Lightning production, which kicked off in April 2022. After that, the Lightning faced tremendous demand prior to multiple price increases due to raw materials costs and other economic factors that ultimately caused that to taper off, though a recent boost in production and falling costs prompted FoMoCo to slash prices significantly. It's currently unclear what the Tesla Cybertruck will retail for when it launches, as the automaker removed pricing from its website some time ago. However, it seems unlikely that the EV pickup will start out at $39,900, as was originally slated to be its base MSRP.
We'll have more on everything Ford's competition is up to soon, so be sure and subscribe to Ford Authority for 24/7 Ford news coverage.