MotorWeek's archives are full of classic automotive reviews from its earlier years, and the publication periodically releases such reviews for its Retro Review segment on its YouTube channel. Lately, they've given us a second look at their 1997 Ford Taurus SHO review, another of the 2001 Ford Focus, and the 1996 Ford Mustang Cobra. Now, another Retro Review has been dusted off from the distant year of 2006, when the outlet was able to sample the 2007 Ford Mustang Shelby GT500.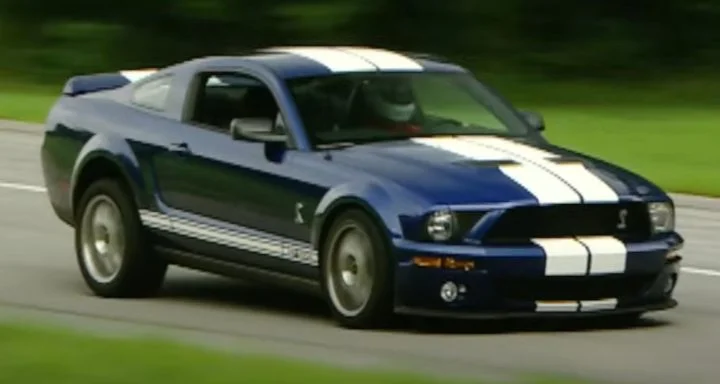 "The combination of Mustang and Shelby has always produced serious performance," says host John Davis, explaining that this particular pony car was produced "under the watchful eye of Carrol Shelby himself," just as it should be, considering the GT500 nameplate had been retired since 1970.
The supercharged 5.4L V8 was the "heart of this stallion," throwing 500 horsepower and 480 pound-feet of torque. He praises the six-speed manual transmission that relays all that power to the pavement, enabling a gallop from zero to 60 mph in just 4.5 seconds. However, he notes that wheelspin hinders the pony car's launch capabilities, although it's not enough to put them off the race car.
The 2007 Ford Mustang Shelby GT500 features a retuned suspension to make it as fast through the corners as it is on the straightaways, although Davis says he noticed "quite a bit of push" from the powerful driveline as the pony car navigates turns. However, feeding power at the apex of the corner evens things out once more. Overall, it's a fun ride, if not a bit "plain" when it comes to interior and exterior styling.
As for the modern GT500, it's worth noting that the model has been on hiatus since the completion of the 2022 model year. However, it's not gone for good – in fact, it's expected to make a comeback on the S650 platform for the 2026 model year, as first reported by Ford Authority.