The 2024 Ford F-150 will debut at the Detroit Auto Show in September, although some details about what we can expect from the refreshed full-size pickup truck have already been revealed. As Ford Authority previously reported, a new hybrid variant will be added to the lineup, along with a modular front bumper, and a portrait-oriented touchscreen, among other changes. Now, sources say that the upcoming Lobo will be positioned as a very distinct part of the upcoming model range.
According to sources familiar with the new variant, the 2024 Ford F-150 Lobo will be its own trim, similar to how the Tremor is positioned in the F-150 lineup. Unlike that off-road oriented model, the Lobo will boast a lowered ride height. Additionally, the trim features a "sinister and aggressive" appearance. The adoption of the Lobo name for the U.S. market would be a first, although it has been used in Mexico since the 1990s. The Lobo, which is Spanish for "wolf" is used instead of F-150 on every Mexican version of the pickup, save the XL. The company decided to use the name to appeal to young truck shoppers, and it is still used for the modern F-150 lineup. The addition of an F-150 Lobo fits with the company's recent strategy to offer specialty models and variants that are inexpensive to develop and profitable for the company.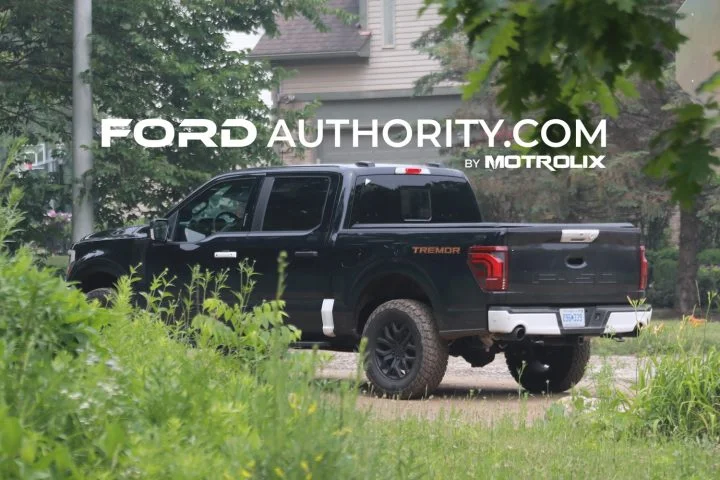 Details about the 2024 Ford F-150 follow the company's recent move to trademark F-150 Lobo with the United States Patent and Trademark Office. Curiously enough, the company filed to trademark Maverick Lobo on the same day, although no information about that potential model have surfaced as of this writing. Earlier this year, the company also filed two other trademarks related to the F-150: F-150 Thunder and F-150 Flash.
We'll have more on the 2024 Ford F-150 Lobo soon, so subscribe to Ford Authority for the latest Ford F-150 news, and for continuous Ford news updates.