Following years of rumors and anticipation, the all-new S650 generation 2024 Ford Mustang debuted last September, and official power figures were released a few months later. As promised, the 2024 Ford Mustang Dark Horse represents the range-topping model in the new lineup, as its version of the naturally-aspirated Ford 5.0L V8 Coyote engine is rated to produce 500 horsepower and 418 pound-feet of torque at the crank. Of course, we've been waiting for deliveries to begin so we can see what the new pony car is capable of churning out on the dyno, and just last week, that happened with a regular GT model. Now, the folks at Middleton Motorsports have strapped the very first 2024 Ford Mustang Dark Horse six-speed manual car to the dyno, and the results are pretty impressive.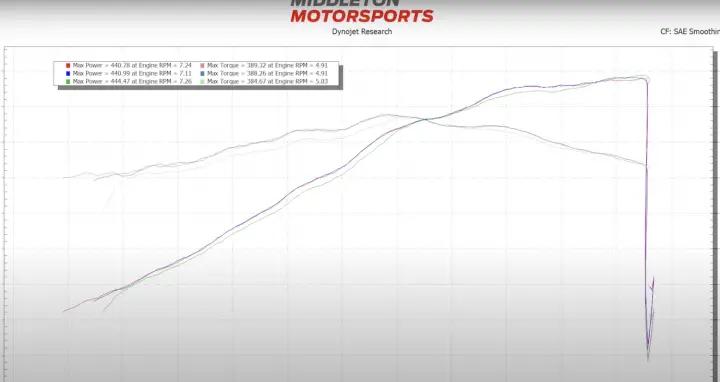 While the automatic transmission-equipped GT convertible managed to put down just 408 horsepower on the dyno – a low figure, albeit one that could be better once the speed limiter is removed via a tune – this 2024 Ford Mustang Dark Horse is equipped with the manual gearbox, meaning that it can be dyno'd at a true 1:1 ratio, all the way to the redline, for better results.
That much is evident on the very first pull, which results in an SAE corrected output of 440 horsepower and 389 pound-feet of torque, or a roughly 12 percent parasitic drivetrain loss, which is in the normal range for most vehicles. However, the car hit the speed limiter a little north of 7,000 rpm, so there's clearly room for improvement.
After letting the new pony car cool down a bit, the second run results in the same exact 440 horsepower and 388 pound-feet of torque, which is remarkably consistent. However, the team at Middleton believes that it's got another 5-10 horsepower in it once they reach the 1,000-mile mark, and it's possible that there's even more to unlock when/if tuners are able to remove the factory speed limiter, though that potential gain looks small given the flat power curve at the top of the rev range.
We'll have more on the 2024 Ford Mustang soon, so subscribe to Ford Authority for the latest Ford Mustang news and comprehensive Ford news coverage.