3D printing has been around for a few years now, and has become a popular hobby for many. However, companies like Ford have also discovered that 3D printing is a good fit as well, and The Blue Oval has taken full advantage of this by using it to help renovate Michigan Central Station, turn waste into auto parts, and aid in its production efforts. In fact, Ford is already using this technology at a number of its existing plants – which is continuously becoming more autonomous – and now, the automaker has shed some light on just how much money it has saved the company at the Sharonville Transmission plant in Ohio, too.
The Sharonville plant began using 3D printing back in 2017, and it has since expanded it to a wide variety of operations, enabling staff to print replacement parts on-site quickly and even tackle problems in a more efficient manner. Perhaps more importantly, this technology has saved the company more than $4 million over the past few years, as the planet has used it to print everything from assembly line pucks to test stand bushings, bumper pads for automatic guided vehicles (AGV), and emergency stop buttons, among other things.
Now equipped with a full-blown, cutting-edge 3D printing lab, the Sharonville plant is blazing a path for the automaker's other facilities, and it just received another $3.5 million in funding for additional 3D printing equipment. In the near future, other plants will be able to order 3D-printed parts from this facility, which will also be able to send printing instructions to other locations, too.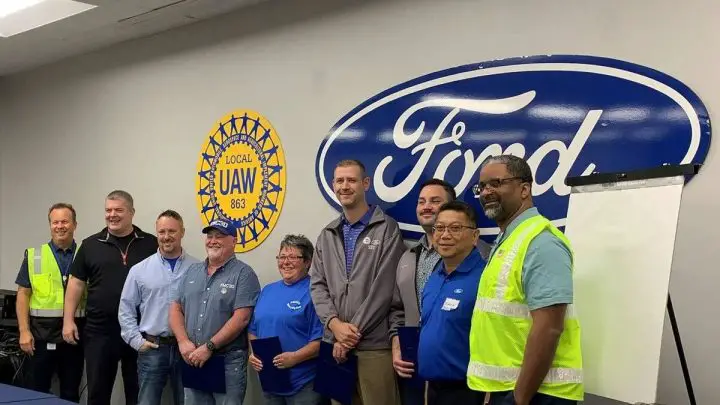 "Each product we did just kept saving more and more money," said Phil Grobbel, process development manager at Ford's Manufacturing Technology Development Center (MTDC). "It took a long time to prove we were going to be successful, and we had to pound on a lot of doors, but it was worth it. We can iterate a part using our additive manufacturing capabilities, so what used to take months, we can do in weeks. It's amazing to think of the capabilities of additive manufacturing and breadth of where it can be applied."
We'll have more on Ford's 3D printing efforts soon, so be sure and subscribe to Ford Authority for 24/7 Ford news coverage.