Whenever The Blue Oval releases a new product, it's interesting to see how many people take them straight to the dyno to see what kind of horsepower they can put down at the wheels. For example, the 2023 Ford F-150 Raptor has been put to the test, along with a 2021 Ford F-150 Raptor and the 2022 Ford Bronco Raptor. Now, Middleton Motorsports has gotten its hands on the 2024 Ford Mustang GT, and of course, they throw it on the dyno to find out where the all-new seventh-gen pony car stacks up in terms of power, likely becoming the first people to do so outside of Ford Motor Company.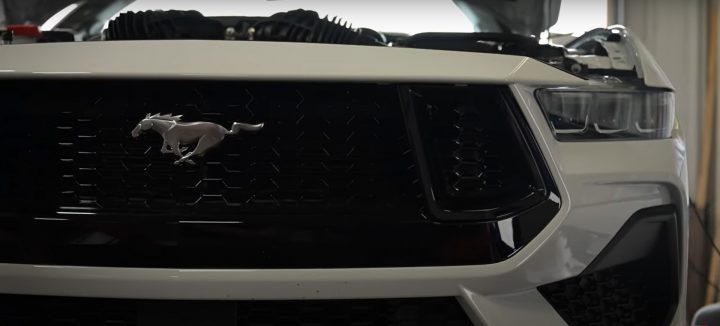 FoMoCo states that the 5.0L V8 Coyote engine under the hood of the 2024 Ford Mustang GT boast an output of 480 horsepower and 418 pound-feet of torque. Middleton Motorsports notes that revisions to the 5.0L Coyote for the 2024 Mustang GT include a new intake manifold, twin throttle bodies along with other small mechanical and calibration changes. This particular Mustang GT features the 10-speed automatic transmission as well.
The first test reveals 398 horsepower, while a second pass brings it to 408 horsepower at 7,400 RPM. However, since this vehicle is so new and has less than 1,000 on it, it's hardly broken in, and they suspect that there's another 10 horsepower or so yet untapped. A third run reveals very similar results to the second.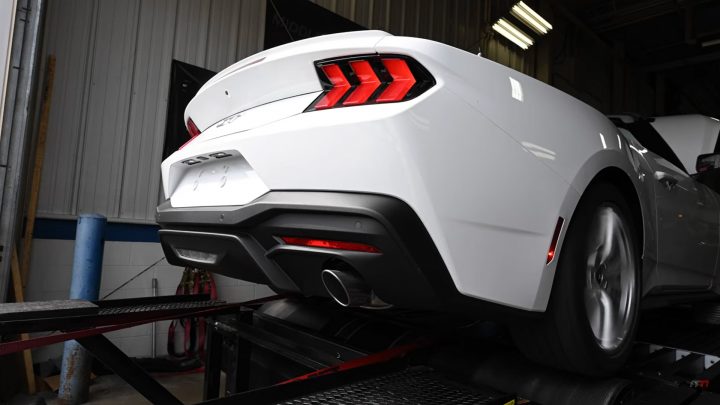 Because this particular 2024 Ford Mustang GT is a convertible, it has a relatively low speed limiter, which means that it's difficult to perform dyno pulls in anything above fifth gear. Seventh gear is the true 1:1 ratio, and they were able to get it up to speed in seventh very briefly – demonstrating that it was making quite a bit more power, but still indicating that it's only around the 420 range. Middleton Motorsports says that it's in line for a Mustang Dark Horse, and that they're a bit more optimistic about its results versus the Mustang GT.
However, it's a good test to see what the automatic Mustang GT can pull, considering that most buyers of the seventh-gen Mustang are opting for the automatic transmission in conjunction with a V8 engine.