It looked like something right out of a video game when Ryan Preece's No. 41 NASCAR Ford Mustang was sent sideways on the backstretch at Daytona on August 26th, 2023, before going airborne and flipping almost a dozen times before coming to rest in the infield grass. After the spectacular wreck, NASCAR's Senior Vice President of Competition, Elton Sawyer, took to SirusXM NASCAR Radio to explain that the sanctioning body is closely examining the No. 41 race car.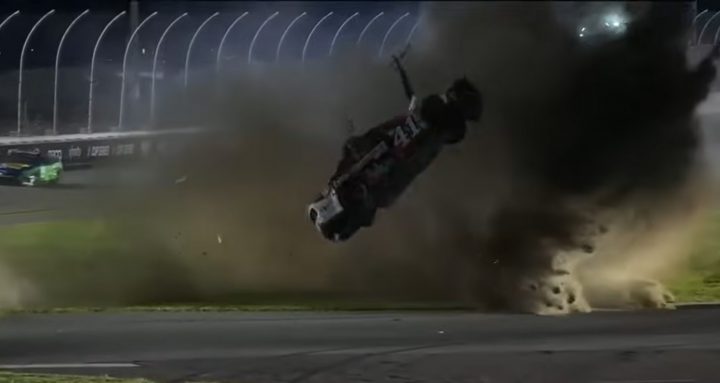 Preece was able to exit the wrecked race car under his own power before he was loaded onto a stretcher and taken by ambulance to a local hospital for observation to be released the following day. NASCAR's Research and Development arm took interest in the No. 41 Mustang, and are currently tearing down the race car for study about how its structure held up, and a potential cause for the flip in the first place.
"If you take the 41 in particular, obviously, we loaded it up at the racetrack. We brought it back here to the R&D Center," Saywer explained. "They started yesterday, taking a much deeper dive into exactly what went on, simulating getting sideways at 190 miles an hour, you're off in the grass, then you get on some asphalt, get air under the car… it starts to flip multiple times there. All those things we will take a much deeper dive into… I'm sure there will be some things we will learn from that."
Sawyer also referenced an earlier incident that occurred during the race, during which Ryan Blaney's No. 12 NASCAR Ford struck the wall head-on, stating that recent modifications to the front end of the race cars helped keep him safe in the impact.
"Our sport is inherently dangerous," Sawyer said. "Whether it's on Pit Road, whether it's behind the wheel of the race car… the good news is both our drivers were able to get out of the vehicles. We can learn and we can move forward."
Subscribe to Ford Authority for more Ford racing news, NASCAR news, and ongoing Ford news coverage.