We've certainly seen our fair share of interesting and competitive drag races involving all sorts of Blue Oval models in recent months, a lineup that includes a 1998 Ford Falcon V8 Supercar taking on a 2003 Nismo Super GT 350Z, a Ford Mustang Shelby GT500 versus the all-new Dodge Challenger Black Ghost, and a modified classic Mustang taking on an equally modified Falcon. Now, that trend continues via this new video from Hoonigan, which recently lined up a twin-turbocharged Ford F-150 pickup against an LS-swapped 2001 Audi S4 for a series of compelling drag races as part of its This vs That series.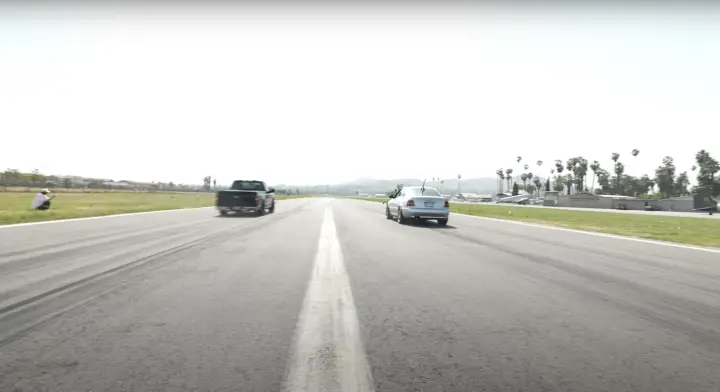 On paper, these two vehicles couldn't be much more different, aside from the obvious fact that one is a performance-focused sedan and the other is a workman-like pickup. The 2001 Audi S4 in this particular drag race is no longer powered by an engine from the German brand, however, but rather, a quad-turbocharged LS from General Motors that utilizes LQ4 internals with an LS6 manifold. Total output comes in at around 900 horsepower, which flows to all four wheels via a six-speed manual gearbox.
In the other lane, we have a 2018 Ford F-150 with a pair of turbochargers added to its factory Ford 5.0L V8 Coyote engine, which results in a cool 950 horsepower. Mated to the factory 10-speed automatic gearbox and four-wheel drive system, the regular cab pickup seems to be at a bit of a disadvantage right off the bat, as it weighs a full 1,100 pounds more than the Audi.
However, those things don't always matter in the real world, but at least in the first race, the S4 gets the better of the F-150 after chasing it down following a slower launch. Thus, for the second race, the Ford F-150 driver gets the hit, which is enough to reverse these results as the pickup rides to victory. Ultimately, that means it all comes down to a third, head-to-head race, and in this case, the Audi's manual gearbox proves to be its Achilles heel, as the driver misses second and watches the F-150 rocket ahead to victory – perhaps a disappointing end to a close matchup, but a win, nonetheless.
We'll have more cool videos like this to share soon, so be sure and subscribe to Ford Authority for the latest Ford F-Series news, Ford F-150 news, and non-stop Ford news coverage.