Over the past several months, Ford has made waves in the press for its myriad number of quality issues, which led to it ranking below the industry average in both J.D. Power's 2023 U.S. Vehicle Dependability Study and 2023 U.S. Initial Quality Study. However, the automaker has pledged to have "best in class quality" by 2025 – at least for some of its models. In the past, Ford technician Brian Makuloco of the YouTube channel Ford Tech Makuloco has pointed out many of these flaws as it pertains to the ICE-powered Ford F-150, but now, he's back with a video discussing quality issues with its all-electric counterpart, the Ford F-150 Lightning.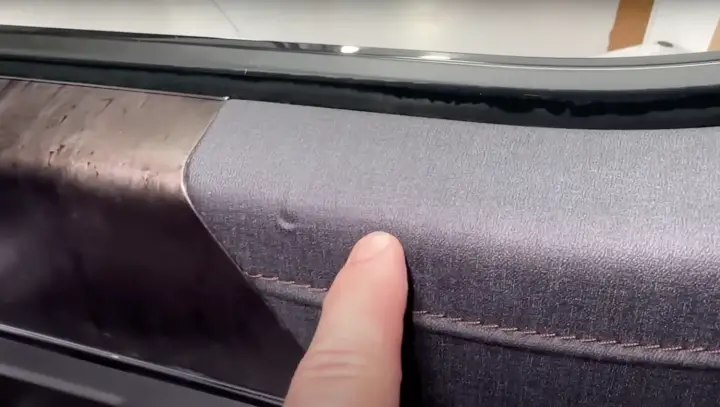 What's particularly notable about this Ford F-150 Lightning is the fact that it isn't a customer's truck, which is usually the case. Rather, it belongs to Makuloco himself, and he's put around 900 miles on it thus far. Over that time, however, he's found a few quality issues present on the truck, and must also take it back to the dealership for a battery pack recall fix, as he outlines in this video.
For starters, Makuloco isn't a fan of all the noises the frunk makes when it's in the process of opening and closing, which he attributes to a possible misalignment and a cheap striker design. Inside the cabin, there's a rather large divot in the passenger side front door panel, which is being replaced under warranty, but is a $950 part, as Makuloco points out. On top of that, there's a chunk of paint missing from the rear bumper, to boot.
In addition to all these annoyances, Makuloco notes that the there is some buffeting noise that occurs when the rear windows are rolled down but the front ones aren't, while the weather seals flap around in the wind as well. Throw in a popping noise from the front wheels when turning or accelerating, and it's easy to see why Makuloco isn't terribly happy with his $90k pickup, which is completely understandable, even if he is just leasing it for two years, as he notes in the video.
We'll have more interesting videos like this to share soon, so be sure and subscribe to Ford Authority for the latest Ford F-Series news, Ford F-150 news, F-150 Lightning news, and ongoing Ford news coverage.