As pony car fans are undoubtedly aware by now, the all-new, redesigned 2024 Ford Mustang can be had in two 5.0L V8 Coyote powered variants – the GT and the new, range-topping Dark Horse. The former model churns out 480 horsepower and 415 pound-feet of torque in regular guise, or 486 horsepower and 418 pound-feet with the optional active exhaust, while the Dark Horse is factory-rated to generate 500 horsepower and 418 pound-feet of torque. Thus, one might assume that the Dark Horse is the quicker 2024 Ford Mustang on paper, but that's a theory that Hennessey Performance recently put to the test in the real world.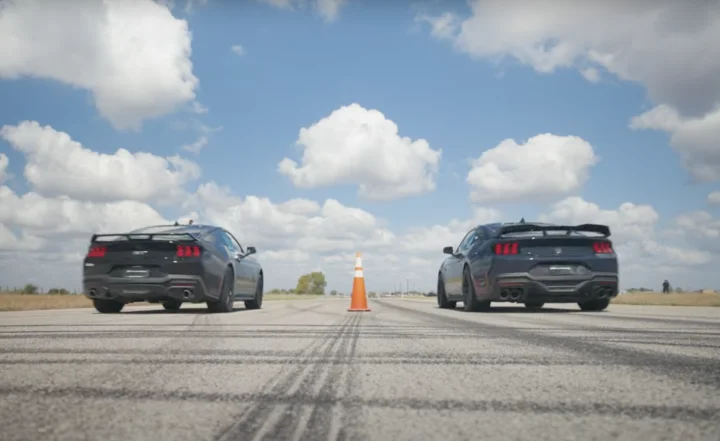 This matchup is particularly interesting given the fact that both of these cars have put down different results on the dyno recently. The 2024 Ford Mustang GT managed to churn out 408 horsepower in one pull completed by Middleton Motorsports, while a Dark Horse with the six-speed manual gearbox laid down 440 horsepower when tested by that same company.
In this showdown, the two stock pony cars are an even match thanks to the fact that both are equipped with the 10-speed automatic gearbox, but the Dark Horse puts its extra power to use by motoring away from the GT right from the start, holding that advantage until the end and crossing the line multiple car-lengths in front.
Thus, Hennessey lines up the pony cars for a roll race starting at 35 mph to see if it makes any difference, and it actually does, as the GT manages to hold onto an early advantage and take a very close win. Next, they line the cars up for a second try, and this time, it's a much more even start, which results in a win for the Dark Horse. Now, we'll just have to wait and see how the stock version of the Dark Horse holds up against Hennessey's forthcoming H850 variant, which is slated to churn out a cool 850 horsepower when it launches.
We'll have more on the 2024 Mustang soon, so be sure to subscribe to Ford Authority for more Ford Mustang news and around-the-clock Ford news coverage.