With the United Auto Workers (UAW) strike against Ford, Stellantis, and General Motors still ongoing, both former President Donald Trump and current President Joe Biden have shown an interest in visiting Detroit to help the two sides forge a new deal. However, at the same time, UAW President Shawn Fain has made it clear that neither candidate will play a role in that process, a notion that Ford reiterated in a statement earlier today. Regardless, after saying that automakers and the union should work together and noting that he planned on visiting a UAW picket line last week, that's precisely what Biden did today, according to the Associated Press, which added that it believes this is the first time a U.S. president has done so.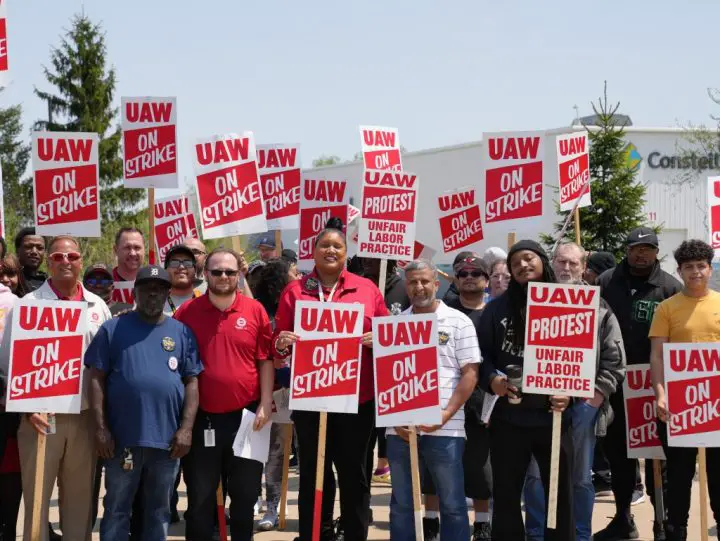 "Stick with it," Biden told UAW members at the gathering. "You deserve the significant raise you need. You guys, the UAW, saved the automobile industry back in 2008 and 2004. You made a lot of sacrifices, you gave up a lot, and the companies were in trouble. But now, they're doing incredibly well, and guess what? You should be doing incredibly well, too. Folks, stick with it cause you deserve this significant raise you need and other benefits. Let's get back to what we lost, OK? We saved them, it's about time for them to step up for us."
President Joe Biden joined the United Auto Workers on their picket line Tuesday.

Take a listen to what he had to say. pic.twitter.com/bjJZcgG1jv

— The Associated Press (@AP) September 26, 2023
"Thank you, Mr. President, for coming to stand up with us in our generation-defining moment," said UAW President Shawn Fain, who joined Biden at the picket after riding there with him in the presidential limousine. Fain added that the union is engaged in a "kind of war" against "corporate greed." "We do the heavy lifting. We do the real work," he added. "Not the CEOs."
We'll have more on the UAW strike soon, so be sure and subscribe to Ford Authority for more 2023 Ford-UAW news, UAW news, and continuous Ford news coverage.