While the Ram TRX debuted to much fanfare, eager to make fun of its chief competitor at the time – the Ford F-150 Raptor – the proverbial tables soon turned when the Ford F-150 Raptor R debuted. Packing the supercharged Ford 5.2L V8 churning out 700 horsepower and 640 pound-feet of torque, the Raptor R is a much more formidable foe for the TRX and its supercharged 6.2L V8 making 702 horsepower and 650 pound-feet. Since then, the Ford F-150 Raptor R has taken down the TRX in multiple drag races and comparison tests, and just last month, Ram announced that it will be killing off that model after 2024. Now, we get to see these two monster pickups do battle one more time, courtesy of Cleetus McFarland.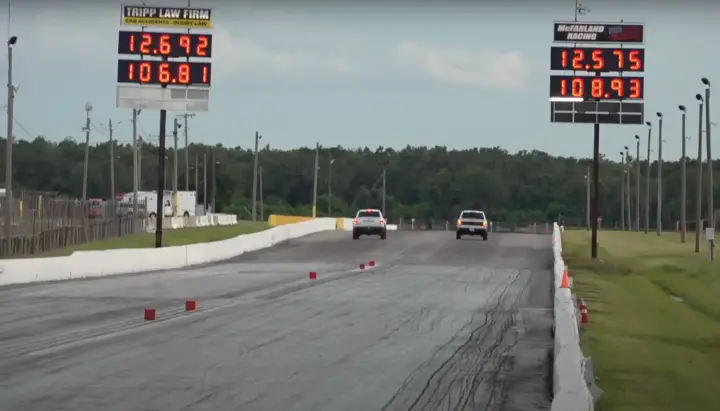 McFarland purchased his Ford F-150 Raptor R a few months ago and has done nothing but beat on it ever since, which is par for the course for the popular YouTuber. McFarland admits right off the bat that the Raptor R is not only his very favorite pickup truck, but also his favorite vehicle of all-time. However, many of his fans have told him he should at least try out the TRX to see if he likes it better. Thus, he managed to secure one for comparison's sake, after which he pitted the two trucks against each other in a series of tests.
After going for a bit of a rip and doing an impromptu braking test and sound showdown, McFarland and his crew take the two trucks and strap them together for a tug of war competition, which the TRX wins easily. However, the real decider here is a proper drag race, at a real drag strip, and that's precisely where the team heads next to settle this battle once and for all.
There, the Ford F-150 Raptor R makes easy work of the TRX in the first race, launching off the line and never looking back as it runs a 12.55-second quarter-mile at 109 mph versus the Ram's 15.5-second slump, which the owner attributed to wheel hop problems. The second race is a little closer as just a couple tenths separate the two, and a third showdown cuts that lead to a little over a tenth. Regardless, the Raptor R takes home all three victories, once again earning it the title of the ultimate supercharged V8-powered pickup.
We'll have more on the Raptor R soon, so be sure and subscribe to Ford Authority for the latest Ford F-150 news, Ford F-150 Raptor news, and ongoing Ford news coverage.