As most are well aware by now, the sixth-generation Ford Bronco is quite the capable off-road machine, whether one wants to go rock crawling, blasting across the desert, or trolling through the mud and water. We've seen more than a few Broncos conquer some impressive obstacles since the SUV's debut a couple of years ago, as well as perhaps some places that they shouldn't be. Now, yet another interesting video has surfaced showing a Ford Bronco driver putting their SUV through, well, what could be called literal hell.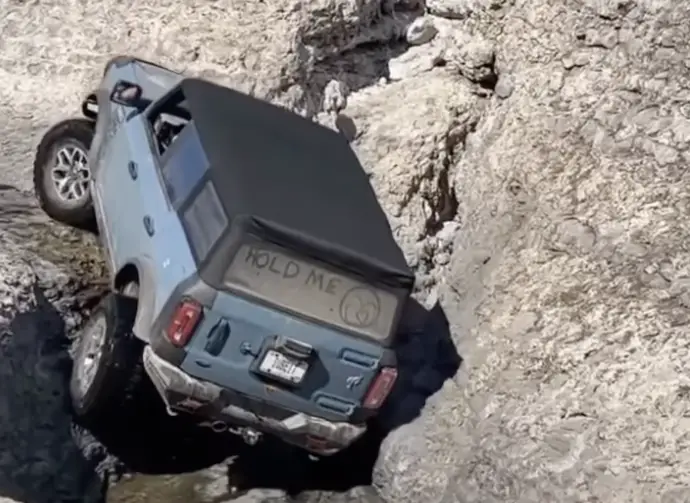 It's unclear where this footage was shot, but as we can clearly see, the Ford Bronco driver is attempting to make it up a very steep rock formation, which the video title says is a waterfall. It gets about halfway up, but is clearly stuck there, though the driver doesn't give up. Rather, they keep gunning it, as we can hear the turbocharged 2.3L I-4 EcoBoost wailing away, bouncing off the rev limiter in rather violent fashion.
After a few attempts, the SUV does in fact make it up the first slope, though it certainly isn't pretty, as the vehicle is bouncing around violently. After smacking the tire on the side of a rock, it's on to another obstacle – a deep ravine prime for more vehicle abuse. The driver uses the same tried-and-true method here of just giving it lots of throttle to escape, and that works, turning the Bronco to one side as it emerges victoriously.
While this Ford Bronco is clearly not stock – it has an unusual mishmash of the Everglades snorkel and graphics – albeit with different wheels and fender flares – plus some body armor, it's still quite painful to watch it put through so much abuse. Typically, these types of situations call for a little finesse – but the owner of this particular SUV is more interested in the hammer method, it seems.
We'll have more wild videos like this to share soon, so be sure and subscribe to Ford Authority for more Ford Bronco news and around-the-clock Ford news coverage.