Early last month, the all-new 2024 Toyota Land Cruiser was revealed for the U.S. as a completely reimagined version of a long-running nameplate. Smaller and significantly less expensive than its predecessor, the new Land Cruiser is set to return to its rugged, off-road-focused roots, making it more of a Ford Bronco rival than it has been in many years. Both of these vehicles are mid-size SUVs derived from mid-size pickups, and both are quite close in terms of dimensions, as Ford Authority recently explored in depth. Now, as we await the arrival of the new Land Cruiser next spring, we're taking a closer look at how its powertrains stack up to the ones available in the Ford Bronco.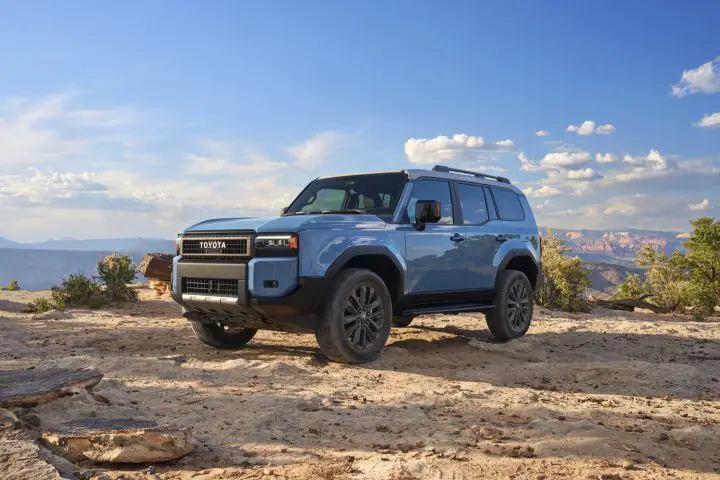 2024 Ford Bronco vs 2024 Toyota Land Cruiser Powertrain Comparison

| | Ford Bronco | Ford Bronco | Ford Bronco Raptor | 2024 Toyota Land Cruiser |
| --- | --- | --- | --- | --- |
| Engine: | 2.3L EcoBoost | 2.7L EcoBoost | 3.0L EcoBoost | 2.4L i-FORCE MAX |
| Aspiration: | Turbocharged | Turbocharged | Turbocharged | Turbocharged Hybrid |
| Cylinder type: | I-4 | V6 | V6 | I-4 |
| Drivetrain: | 4×4 | 4×4 | 4×4 | 4×4 |
| Transmission (automatic): | 10-Speed | 10-Speed | 10-Speed | 8-Speed |
| Transmission (manual): | 7-Speed | N/A | N/A | N/A |
| Horsepower (premium fuel): | 300 | 330 | 418 | 326 |
| Torque (ft./lbs) (premium fuel): | 325 | 415 | 440 | 465 |
| Towing Capacity (lbs.): | 3500 | 3500 | 3500 | 6000 |
The sixth-generation Ford Bronco carries on in its fourth model year with the same powertrains present when it originally launched – the turbocharged 2.3L I-4 EcoBoost and the twin-turbocharged 2.7L V6 EcoBoost, along with the twin-turbocharged 3.0L V6 EcoBoost present in the Ford Bronco Raptor. The base I-4 churns out 300 horsepower and 325 pound-feet of torque on premium fuel, while the 2.7L V6 generates 330 horsepower and 415 pound-feet of torque, and the range-topping 3.0L V6 makes 418 horsepower and 440 pound-feet of torque.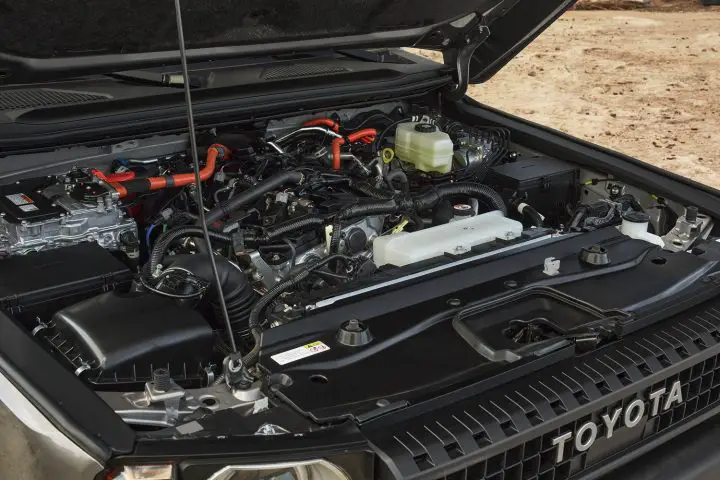 Meanwhile, the 2024 Toyota Land Cruiser will launch with one singular powertrain option – the turbocharged, hybrid 2.4L I-4 i-Force Max, which generates a combined 326 horsepower and 465 pound-feet of torque – making it quite competitive with the 2.7L V6 EcoBoost present in the Bronco while also churning out more torque than the Bronco Raptor.
Regardless of choice here, all of these SUVs come with standard four-wheel drive, while the Land Cruiser utilizes an eight-speed automatic transmission versus the Bronco's standard 10-speed automatic gearbox used across the lineup – though a seven-speed manual is still available, which is something that Toyota fans can't get. In terms of towing, the Land Cruiser features a max rating of 6,000 pounds, which trumps the Bronco's 3,500-pound rating by a significant margin.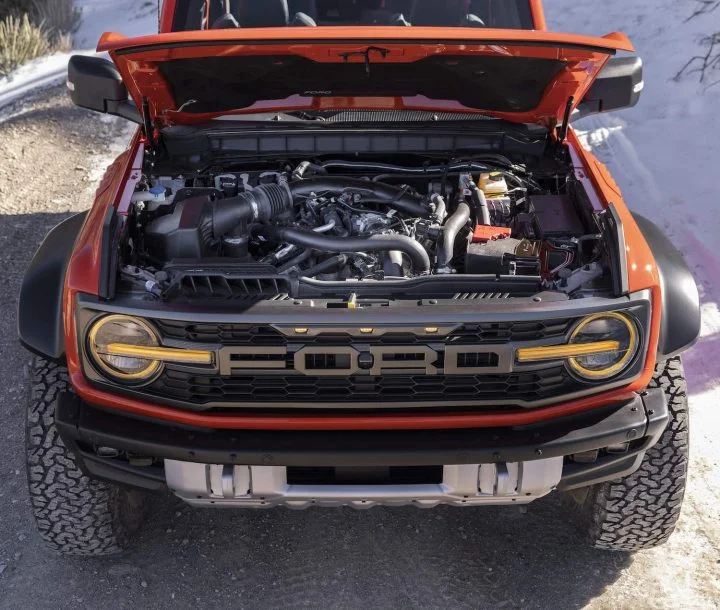 It's worth noting that a hybrid version of the Bronco – perhaps a plug-in hybrid – has been rumored to be in the works for years now, but for now, it seems as if its new fixed-roof rival will hold a couple of advantages when it launches in a few months.
We'll have more on everything Ford's competition is up to soon, so be sure and  subscribe to Ford Authority for more Ford Bronco news and ongoing Ford news coverage.