Back in early 2021, a Ford Crown Victoria owner named Lee Meyer from Neligh, Nebraska made waves across the internet for converting his large sedan into a literal livestock transporter, which he used to move a big bull around town in. To accomplish this, Meyer cut out the passenger side section of the Crown Vic and added a metal gate to make it easier for the animal to get in and out. While this seemed a bit unconventional at the time, it's actually quite common for people to modify cars to show off their prized cattle or other livestock at festivals. However, a couple of years later, it seems as if Norfolk Police weren't quite as amused by this unusual sight, according to News Channel Nebraska.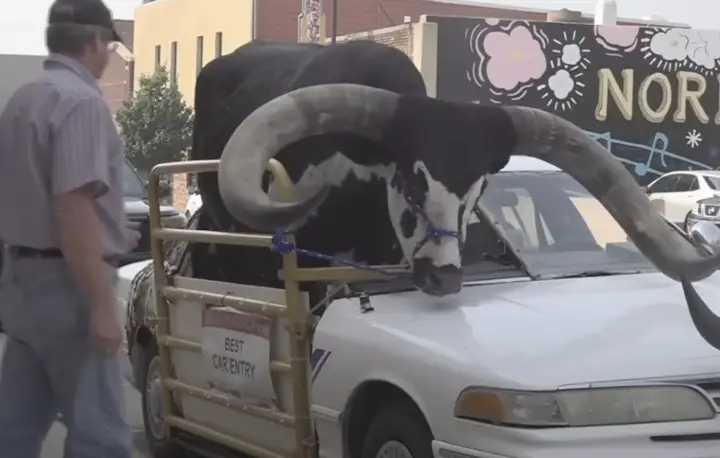 Police received a call one recent morning from a concerned citizen who spotted the Ford Crown Victoria – and its rather massive passenger – a Watusi bull named Howdy Doody – driving eastbound on 275. However, they assumed that Meyer was just transporting something like a small animal – not one that can weigh upwards of 1,000-1,600 pounds, as is the case with this particular breed.
"The officers received a call referencing a car driving into town that had a cow in it,"  said Police Captain Chad Reiman. "They thought that it was going to be a calf, something small or something that would actually fit inside the vehicle. As a result, the officers performed a traffic stop and addressed some traffic violations that were occurring with that particular situation."
Needless to say, the officers were probably a bit stunned by the size of the bull that was riding shotgun in this modified Ford Crown Victoria, and unfortunately for Meyer, it seems as if he violated at least a couple of laws this time around, though he got off relatively easy. "The officer wrote him some warnings," Reiman said. "There were some citable issues with that situation. The officer chose to write him a warning and ask him to take the animal back home and leave the city."
We'll have more wild stories like this to share soon, so be sure and subscribe to Ford Authority for more Crown Victoria news and ongoing Ford news coverage.