We've certainly seen our fair share of commercials and other types of advertisements over the years, many of them automotive related. In the old days, these ads used to be pretty funny, in fact, often poking fun at rival brands and their owners, or just showing off trucks hauling competitor models in their beds. However, when it comes to dealer ads, well, those are usually a bit more over-the-top, which makes them prime for parody – and that's precisely what this faux Ford F-150 commercial cartoon from Brian Frange does in a pretty hilarious manner.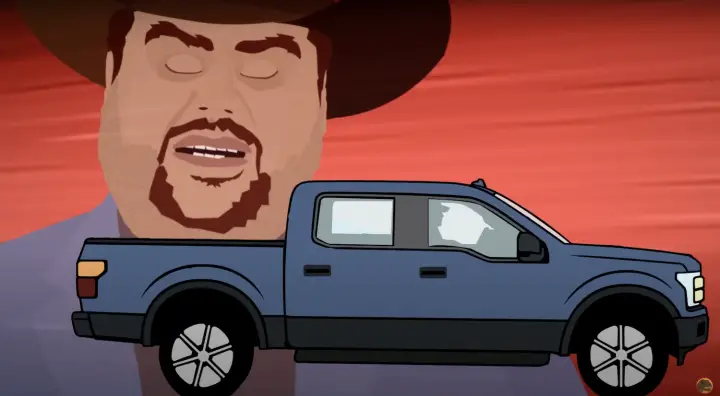 It's worth noting, right off the bat, that this video is far from rated G, and in fact, contains some pretty offensive language. But for those that don't mind such things, it's also pure comedy gold, even though it throws serious shade – as the kids say these days – at Ford F-150 owners. "Hey it's Big Al for Ford," our fake truck-selling host says. "Are you a big man but no one knows it? Buy an F-150 and cosplay as a licensed contractor! The only thing you're hauling is tons of repressed emotion."
"Got reprimanded at work today? Take up two parking spots at Applebees," Al continues. "Found a gray hair in your beard this morning? Ride someone's a** on the highway and blind them with your brights. Did you always want to be a singer, but  instead worked at the cable company for 25 years and you just don't know how your life turned out this way?"
The video goes on to take some pretty serious digs at the stereotypical truck owner in general, albeit aimed at Ford F-150 owners, specifically, largely in a, well, not-safe-for-work manner. Overall, it's pretty humorous stuff, but the real question is – are these allegations fair or even real, or just an overblown stereotype? Let us know what you think in the poll below!
We'll have more humorous videos like this to share soon, so be sure and subscribe to Ford Authority for the latest Ford F-Series news, Ford F-150 news, and comprehensive Ford news coverage.