Given the fact that it has been America's best-selling vehicle for a long time now, the Ford F-Series line of pickups – which consists of the Ford F-150 and Ford Super Duty – has also been involved in its fair share of accidents, many of them captured on video. That list includes plenty of eye-opening incidents including a Ford F-150 clipping a motorcycle rider and then trying to flee the scene, drivers losing control on slick roads, hitting other cars head-on, smashing through walls, and even stolen trucks crashing into other stolen vehicles, ironically. Now, this new video recently posted to Reddit shows yet another mind-blowing incident of the same kind, this time as a Ford F-150 driver smashes into a stopped Mazda Tribute on the highway.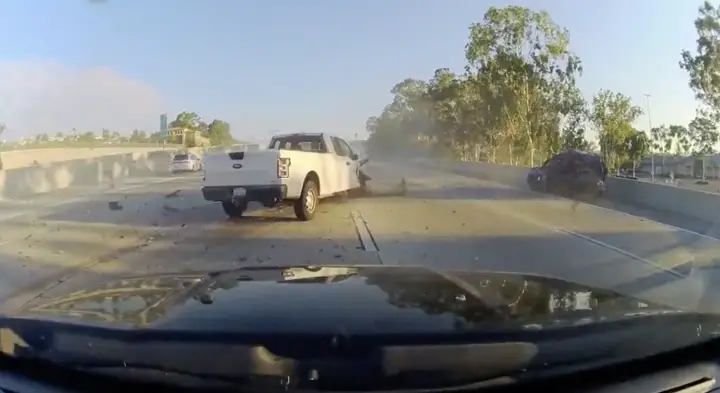 As we can see in the video, the Ford F-150 is just driving down the road in the center lane, minding its own business, when suddenly, it happens upon the Mazda crossover, which is stopped right in the middle of the road. It's unclear why the owner of that particular vehicle thought this was a good idea, however.
Regardless, the driver of the Ford F-150 doesn't see the stopped vehicle until it's too late, and smashes into the rear of it at a decent clip, which causes quite a lot of carnage. According to the person that posted the video, they stuck around to serve as a witness, and spoke with California Highway Patrol when they showed up on the scene. The F-150 driver said they were distracted by a pipe that was laying in the road, which is what caused them to not see the blue Mazda.
[OC] Abandoned Car In the Middle of the Road
byu/AdvancedLooker inIdiotsInCars
The owner of the Tribute said that they had run over that very same pipe moments beforehand – which apparently flew out of the bed of another pickup – and blew out a tire as a result, which prompted them to stop in the middle of the road rather than pull over and try to change the tire safely. Perhaps unsurprisingly, this poor decision led to a complete disaster, and we imagine, a ticket for the Mazda driver, at the very least.
We'll have more crazy videos like this to share soon, so be sure and subscribe to Ford Authority for the latest Ford F-Series news, Ford F-150 news, and continuous Ford news coverage.