It's no secret that the Ford F-Series line of trucks has been the best-selling vehicle in America for more than four decades to this point. a historic run that's simply difficult to fathom sometimes. The Blue Oval sells a massive number of Ford F-150 and Ford Super Duty pickups, obviously, and those models are tremendous profit generators for the automaker as well, which is precisely why it continues to invest heavily in both to maintain an edge on some pretty heated competition. Now, with a redesigned 2023 Super Duty and refreshed 2024 Ford F-150 hitting the market, it's worth taking a look back at the financial impact of the Ford F-Series lineup last year alone.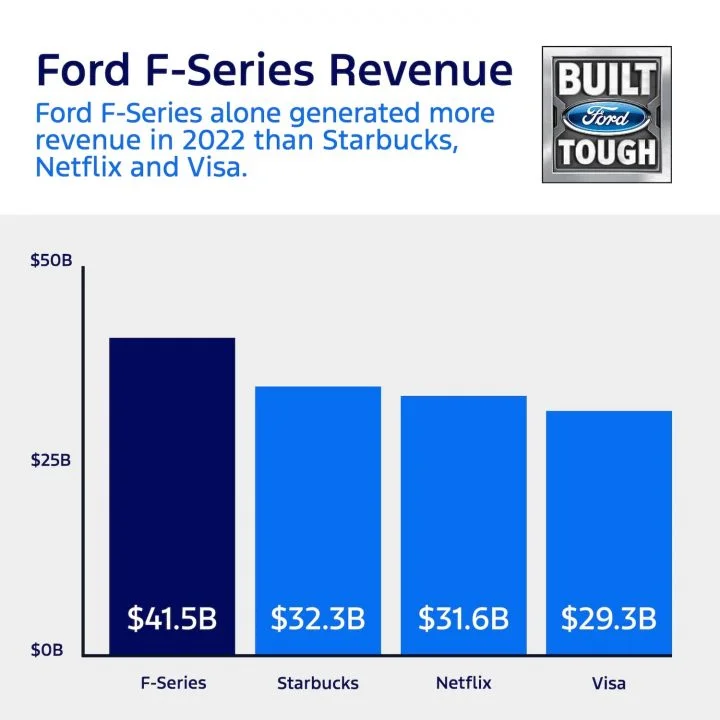 As FoMoCo recently revealed, the Ford F-Series lineup generated an astounding $41.5 billion in revenue last year alone, which is more than Starbucks ($32.3 billion), Netflix ($31.6 billion), and Visa ($29.3 billion) by a relatively large margin. This simple chart truly helps put things into perspective, and underscores just how important the Ford F-Series is to not only the automaker, but also the economy as a whole, particularly since the F-150 isn't just a big seller in the U.S. – rather, it was the ninth best-selling vehicle in the world last year, even though it's only sold in a few select markets.

A study conducted back in 2020 found that the Ford F-Series was second only to the Apple iPhone in terms of annual revenue, and generated more revenue than the National Football League, Major League Baseball, National Basketball Association, and National Hockey League combined. Even more impressively, the F-Series, as a single entity, was larger than McDonald's, Nike, Coca-Cola, Tesla, MasterCard, Visa, Netflix, Uber, CapitalOne, Disney World, Southwest Airlines, and Starbucks at that time, and was big enough that it would have made the list of Fortune 100 companies all by itself.
We'll have more on the F-Series soon, so make sure to subscribe to Ford Authority for the latest Ford F-Series news, Ford Super Duty news, Ford F-150 news, and continuous Ford news coverage.