As part of this year's April Fool's Day fun, Ford Authority conjured up a Ford Maverick convertible via a series of renderings, which understandably garnered quite the reaction around the web – after all, it's an idea that's so absurd, it stands essentially zero chance of ever happening. Regardless, that's precisely what dreams are for, and we've also used that format to come up with an idea of what a sporty Ford Maverick ST might look like, too – a machine that might just come to fruition, unlike the drop top pickup. Now, automotive artist Oscar Vargas has created his own sporty Ford Maverick convertible in virtual form, one that actually looks pretty good as it sits.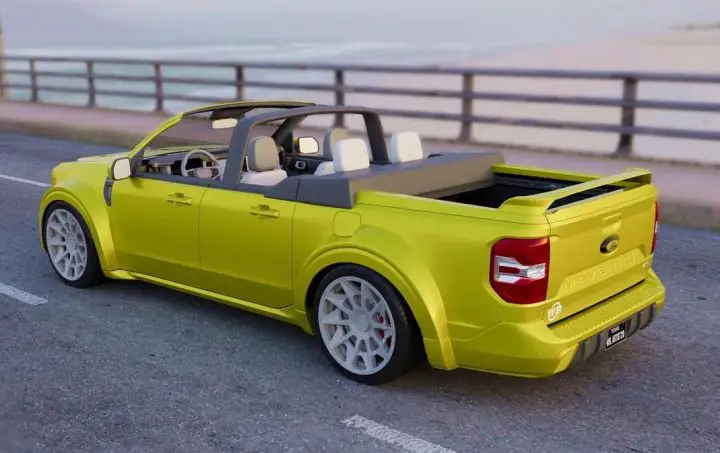 There isn't much here that hasn't been altered from a stock Maverick pickup, as one can quickly tell, including the truck's rather bright paint job that covers every surface, save for a few trim pieces. That includes a set of ultra-wide fender flares and bed sides, which help make the affordable, economical pickup look more like something we'd see carving up the track than hauling mulch – and they also cover up a super-wide set of wheels and sporty, low-profile tires to boot.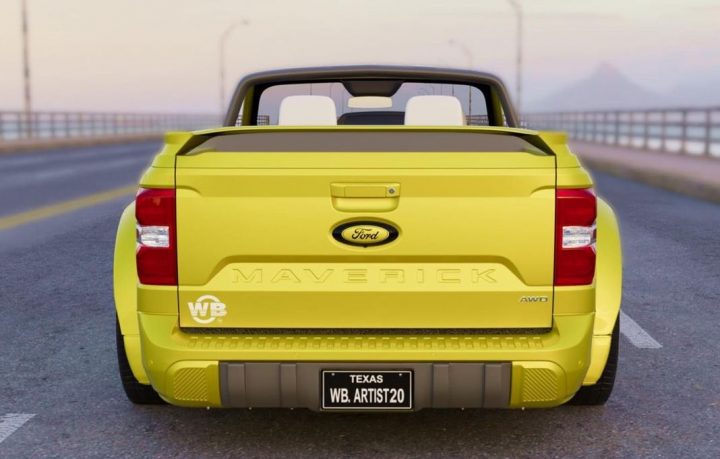 Along with reworked front and rear fascias, this Maverick concept sits super low to the ground, and touts a rear spoiler over its bed, which is somewhat surprisingly lacking a tonneau cover in this case. Regardless, there is still room for five inside the cabin as the rear seat remains intact, and all of those occupants can enjoy the open-air experience thanks to the lack of a roof – though there is a roll bar in the event that carving up canyon roads goes south.
View this post on Instagram
Overall, this sporty Ford Maverick convertible is yet another interesting idea that stands essentially zero chance of ever coming to fruition – but that doesn't take away from the fact that some folks probably wish it would. It may not be for everyone, but we imagine that there are at least a few people out there that would love a sporty, stylish drop top with a bed out back suitable for hauling smaller, lighter things.
We'll have more fun renderings like these to share soon, so be sure and subscribe to Ford Authority for the latest Ford Maverick news and continuous Ford news.