The 2024 model year is a big one for the iconic Ford Mustang, which will not only mark 60 years since the pony car debuted in 1964.5, but it will also see the launch of the brand new, redesigned S650 model. There will undoubtedly be a host of celebrations, events, and perhaps even special variants to mark this occasion, but recently, The Blue Oval took a look back nearly one decade, when it launched a Ford Mustang model into space to celebrate the model's 50th anniversary.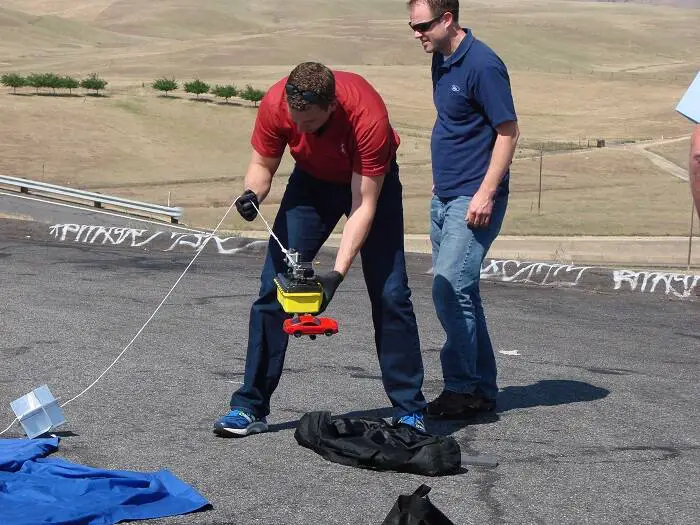 This little stunt makes quite a bit of sense on a number of levels, particularly since the 1960s – when the pony car debuted – was a space-crazed time, with countries jockeying to become the first to reach that dark void in the great "space race." Thus, Michael Sego, who was a zone sales manager in the San Francisco area at the time and is now Ford's Mustang Mach-E group marketing manager, teamed up with Big Valley Ford in Michigan to make this dream a reality.
At that time, the all-new S550-generation Ford Mustang had been revealed, but had yet to launch. However, the team had a 2015 Mustang model that the automaker was distributing at car shows in its possession, which Sego strapped to the side of a high-altitude weather balloon, along with two cameras. The balloon and its cargo then ascended 110,000 feet – or nearly 21 miles – in just 74 minutes before it descended through the stratosphere, spiraling downward before the onboard parachute brought it safely back to earth. Around six hours later, the team was able to locate the model using the balloon's GPS location transmitter.
"We wanted to celebrate 50 years of Mustang and the impending arrival of the all-new 2015 Mustang by doing something really special," Sego said. "Mustang has always been about getting behind the wheel and hitting the open road, but we decided to take to the open sky." Now, nearly a decade later, Sego is helping launch the brand new Mustang Mach-E Rally – which just debuted today – keeping his pony car dreams going for yet another year.
We'll have more on the Mustang soon, so be sure and subscribe to Ford Authority for the latest Ford Mustang news and non-stop Ford news coverage.