Earlier today, the UAW escalated its strike against Ford by staging a walkout at Chicago Assembly plant, which produces the Ford Explorer and Lincoln Aviator. The latest action represented the third phase of the current strike, and the second phase where Ford is directly impacted. In response to today's decision, Ford issued a press release and subsequently held a webcast where CEO Jim Farley claimed that the union is holding up negotiations over its upcoming EV battery and assembly plants.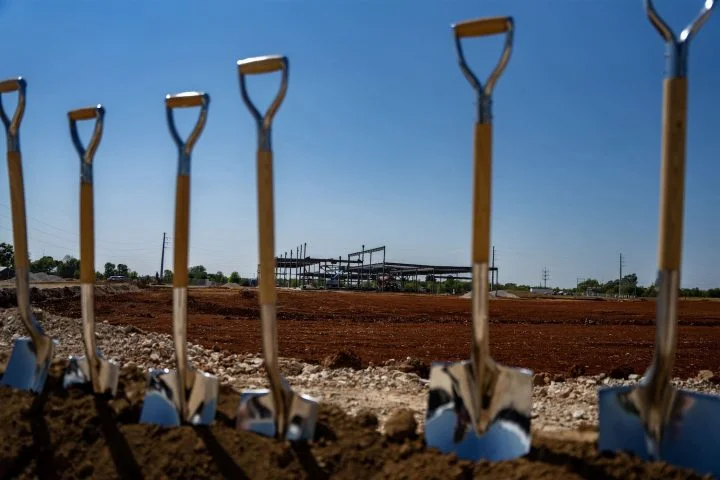 In remarks, Jim Farley directly referred to news last week involving a series of leaked messages from UAW leadership that seemed to imply that the union was negotiating in bad faith. "We've felt from the very beginning, that the original strike was premeditated and that everything is taking way too long," Farley said. "That actually events are predetermined before they happen." He also said that the company is pausing construction of the Ford BlueOval Battery Park Michigan site in Marshall due to a potential for increased labor cost that would impact the project. He later clarified in the Q&A that the company is not cancelling the project but will scale the site based on how negotiations shake out. According to Farley, talks deteriorated over the other EV plants as well, which include Ford BlueOval SK Battery Park in Kentucky and BlueOval City in Tennessee. The Kentucky site will produce EV batteries at two separate plants while the plant in Tennesse will produce a next-generation F-Series electric pickup.
A press release that accompanied the webcast directly placed blame on the UAW "holding up the deal primarily over battery plants that will not come online for another two to three years." "If the UAW's goal is a record contract, they have already achieved this," said Ford President and CEO Jim Farley, in the release. "It is grossly irresponsible to escalate these strikes and hurt thousands of families."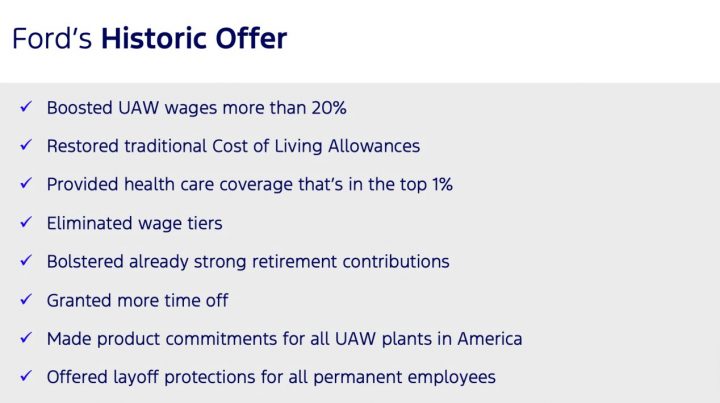 During the webcast, Farley said that the company was receptive to talks about UAW concerns with the upcoming plants but that each facility is years away from scaling up employment and that larger scale hiring will not happen until several years from now. He also said that the next contract would be the more proper venue for talks about labor related to the upcoming sites.
None of the executives present at the conference would go into specifics about where contract talks currently stand in general, but Farley said that UAW demands could impact Ford Escape and Ford Explorer production. "A bad deal would threaten midsize or expensive larger vehicles like Escape and Explorer," said the CEO. "We'd have to choose to cut future investments in those products, restructure and reduce our headcount throughout the company, including UAW workers." In supporting materials that accompanied the company's update on labor talks, the automaker said that it made product commitments for all UAW plants located within the United States.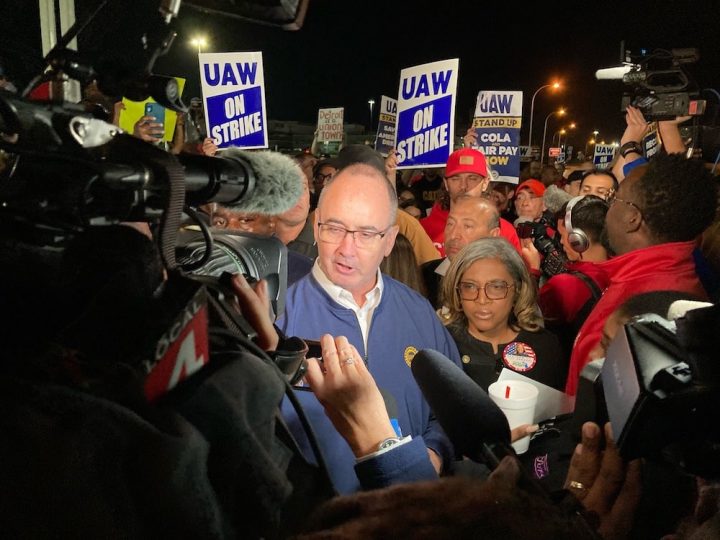 The webcast at times seemed like a direct response to comments made by UAW President Shawn Fain, who panned Ford's decision to pause operations at the Michigan site, calling it a "barely veiled threat by Ford to cut jobs." Farley did not have kind words for Fain during the webcast, saying "Shawn has been on TV more than Jake from State Farm." Ford said that there is still time to "avert disaster," and that its supply base is fragile.
We'll be following the ongoing strike closely, so subscribe to Ford Authority for more 2023 Ford-UAW news, UAW news, and for ongoing Ford news coverage.