Ford Motor Company has filed a patent for a 6×6 bolt-on suspension kit that could be used in future Ford pickups, Ford Authority has learned.
The patent was filed on April 25th, 2022, published on September 12th, 2023, and assigned serial number 11752822.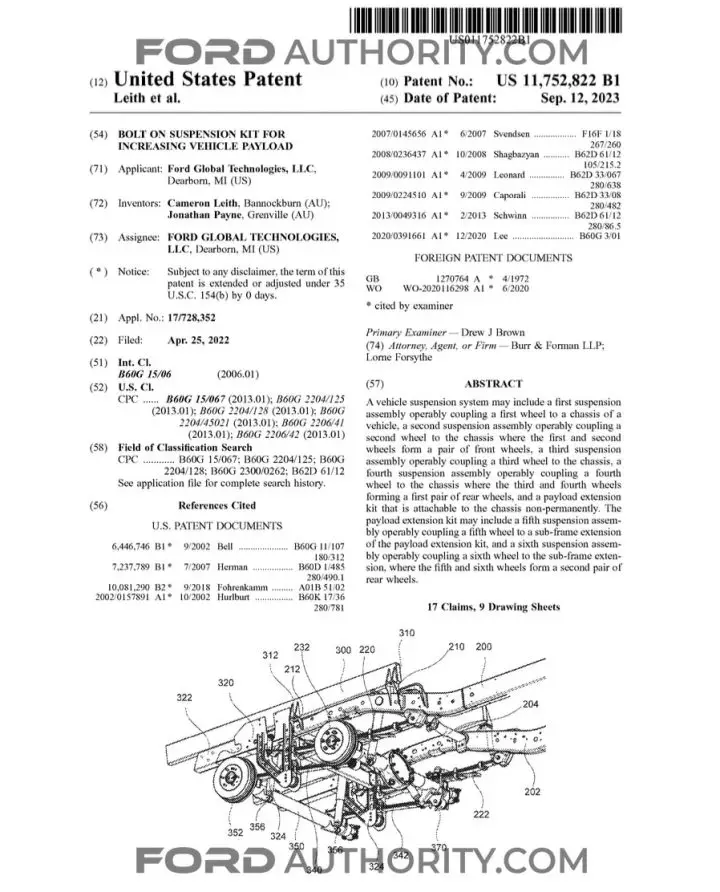 The Ford Authority Take
In recent years, we've seen a number of 6×6 pickup truck conversions emerge from companies ranging from Hennessey Performance to Apocalypse, albeit typically the kinds of vehicles that appeal to only folks with deep pockets and a desire to own something, well, more than a bit audacious. In the meantime, Ford has filed patents for everything ranging from interchangeable performance packages to configurable frames, hinting that it's exploring ways to make vehicles more modular. Now, this newly filed patent keeps that trend going by introducing an idea for something totally different and perhaps unexpected – a 6×6 bolt-on suspension kit that could be used in future Ford pickups.
In today's world, companies that build 6×6 pickups and other types of vehicles are left to do quite a bit of fabrication work in order to fit an extra axle, set of wheels and tires, and related drivetrain components underneath – not to mention stretching the bed to accommodate that additional equipment. However, this patent aims to make that process far easier, though Ford points out that its intentions here are to find ways to increase payload capacity – not necessarily just look cool.
As the automaker points out, adding a third axle and an extra set of wheels and tires is one effective way to increase payload capacity, though such a conversion is quite pricey and difficult to pull off in today's world. That's precisely where this patent would come into play, making it easy to convert future Ford pickups into 6x6s thanks to a ready-to-install kit that – notably – isn't designed to be a permanent modification.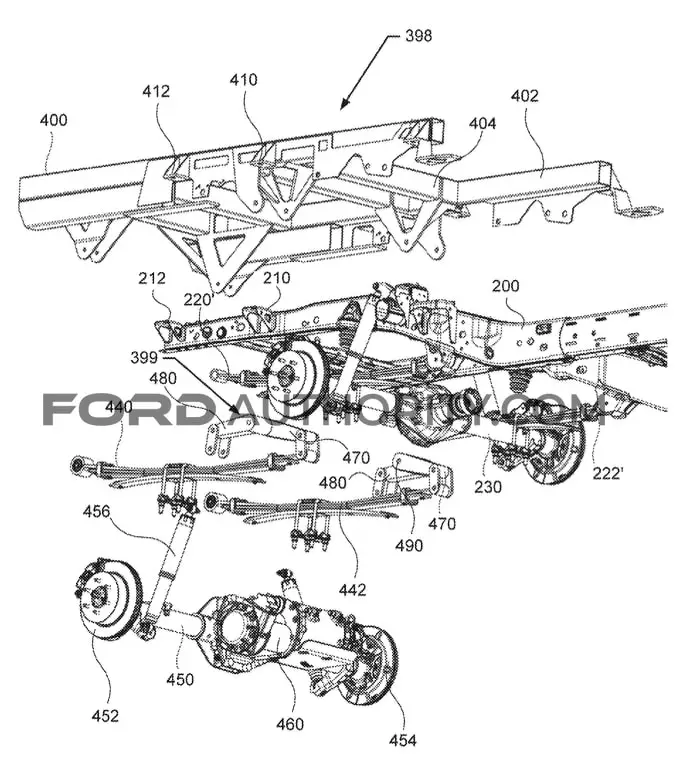 Thus, those that need the extra payload capacity – or simply want to convert their truck to a 6×6 – could do so and then return the truck to stock, if so desired. It's an interesting concept for certain, and one that may very well have some merit as an aftermarket offering via Ford's official catalog, if not a feature one could opt for when they purchase a vehicle.
We'll have more on this and all Ford patents soon, so be sure and subscribe to Ford Authority for the latest Ford patent news, Ford business news, and continuous Ford news coverage.