Back in May 2022, Ford Authority spotted its cross-town rival, General Motors, benchmarking a Ford Mustang Mach-E, a common practice in the automotive world. Clearly seeking to take a much closer look at The Blue Oval's all-electric crossover, GM certainly isn't the only automaker to do so, as it's also been joined by Subaru and Rivian in that regard. Now, Ford Authority has once again spotted GM benchmarking the very same Ford Mustang Mach-E as the one it had in its possession well over a year ago.
It's certainly interesting that GM has held onto this Ford Mustang Mach-E for so long, which is a Premium trimmed model equipped with the extended-range battery and finished in white paint. This same vehicle has been spotted around GM's Milford Proving Grounds in the past, and wears the same decal on the rear portion that the automaker applies to all of the vehicles in its current evaluation fleet.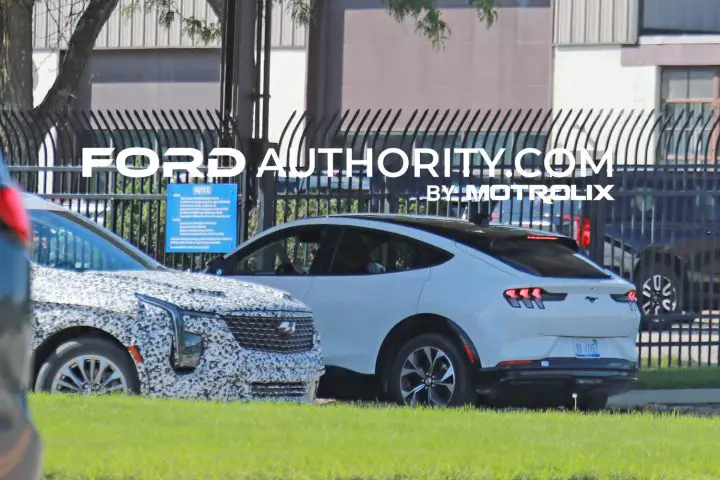 Previously, GM had affixed data collection equipment to the body of its Ford Mustang Mach-E, but that appears to be gone now, so it's unclear what the automaker is using the crossover for. However, with plans to electrify its entire lineup in the coming years – and a fairly rapid launch of many new EV products – it isn't terribly surprising that GM is taking a very long look at Ford's only EV crossover currently on sale in the U.S.
Of course, Ford Authority has spotted The Blue Oval benchmarking its fair share of GM products in recent months, including the Cadillac Lyriq EV – which it currently has no rival for – as well as the Chevy Silverado, Chevy Tahoe, 2023 Corvette Z06, and Hummer EV, to name just a few.
We'll have more on everything Ford's competition is up to soon, so subscribe to Ford Authority for the latest Ford Mustang Mach-E news and ongoing Ford news coverage.