A refresh is in the cards for the 2024 Ford F-150, spicing up the longstanding and iconic pickup with contemporary exterior styling along with a revitalized interior for the first time since the 2021 model year debuted three years ago. Ford Authority has kept a close eye on the development of the forthcoming pickup and first spied a heavily camouflaged example testing back in December 2022, followed by a more luxurious Lariat, a model wearing lighter camouflage showing off its new taillight design, and even a V8-powered Raptor R a short while later (and eventually another one sans camo). We've also spotted a Tremor, and another example showing off its new 22-inch rollers plus tons of pickups without any camo whatsoever. Now, below, Ford Authority breaks down just what we know and expect to see on the 2024 Ford F-150.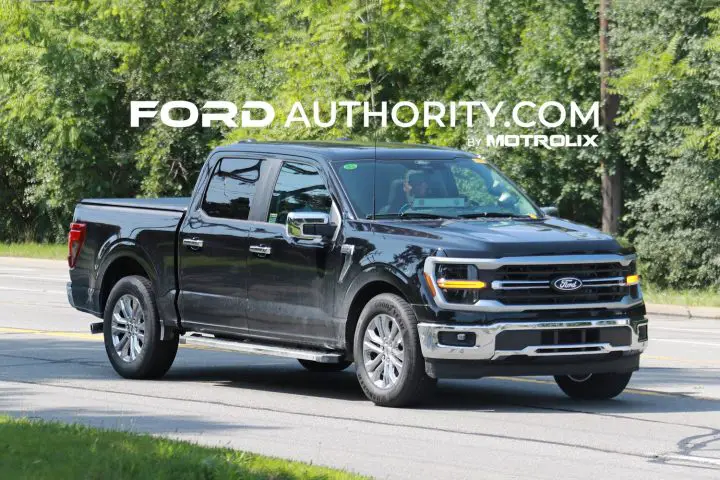 Visually, two distinct grilles will broadly cover most of the 2024 Ford F-150 lineup. For starters, the XL, XLT, and Tremor will seemingly gain their own grille and headlamps, with a design that creates a kind of wraparound border that encompasses the headlights and grille. Additionally, the amber lighting has been enlarged and may become driving lights, replacing the clear LED setup from the current model. A revised Ford emblem can also be seen here, a change that is apparently occurring across the entire global lineup. The new emblem is flat and features a white script instead of silver.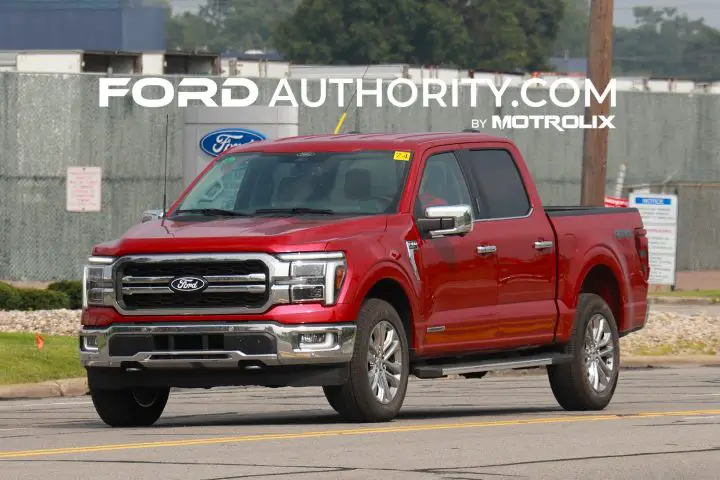 For the 2024 Ford F-150 Lariat and up, a different grille with distinct clear LED lighting elements is standard. The headlights also get split into more distinctive sections within the housing, and it appears the turn signals for these specific pickups will become clear as well. The front bumper and lower fog lights have also been revised.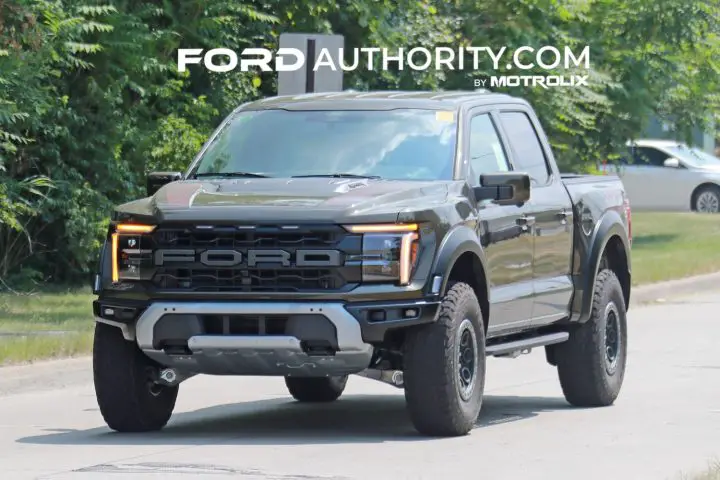 For the high-performance Raptor R, that means a new grille design with slightly altered "FORD" script across the front, which features accent lines around it to help it stand out more than on the current model. Both Raptor variants receive the new aesthetic, and will also feature a new modular front bumper, although it's not clear if the new bumper is standard or optional.
The Raptor variants will feature a new side graphic too. This picture also shows off the revised tail lamp design, which features more red and less clear sections than before. The overall shapes within the housing are also more complex when compared to the current version.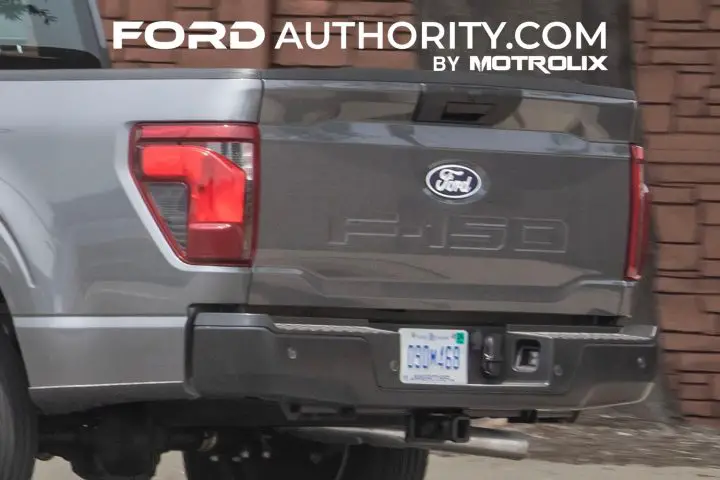 As for new driver-facing features, we expect the 2024 Ford F-150 to boast a revamped infotainment center. In fact, we've already spied two prototype sporting different layouts, including one with a generous vertically oriented screen, while another example featured a horizontally oriented screen. In terms of software, the pickup will likely boast a revamped version of Sync 4, although the company could also inject the new Google-based system into the lineup as well.
Overall, a dashboard shaped almost exactly like the 2023 Ford Super Duty will likely be found on every example too. BlueCruise will also become standard on more models, and most trims will likely offer a 90-day trial of the hands-free driving tech standard.
The forthcoming pickup is also expected to debut with a multifunction tailgate to help it keep up with the competition. More specifically, this could mean the tailgate gets three separate sections with a side-hinged swing door in the center, which can be power-operated via either the key fob, a physical control, or via the pickup's infotainment screen inside – as evidenced by a patent filed by FoMoCo back at the beginning of 2022. That said, a recent teaser shows off a different design, one with a folding inner section flanked by the larger tailgate assembly. It is possible the company will offer more than one multifunction tailgate.
As far as complexity, the 2024 Ford F-150 will be far less complicated than its predecessor. In fact, it will have 2,400 fewer parts than the 2023 model year, part of FoMoCo's plan to simplify its ICE lineup. Part of this change will likely mean major changes to its powertrain lineup. The current F-150 powertrain lineup includes the 3.3L V6, 2.7L EcoBoost, 3.5L EcoBoost, 3.5L PowerBoost, 3.5L high output EcoBoost (Raptor), 5.2L supercharged Predator V8 (Raptor R), and the 5.0L V8 Coyote. For reference, the 2023 Ford Super Duty received a revamped engine lineup, which saw some powertrain options dropped while some trims became less complicated, indicating that the 2024 Ford F-150 could very well follow suit.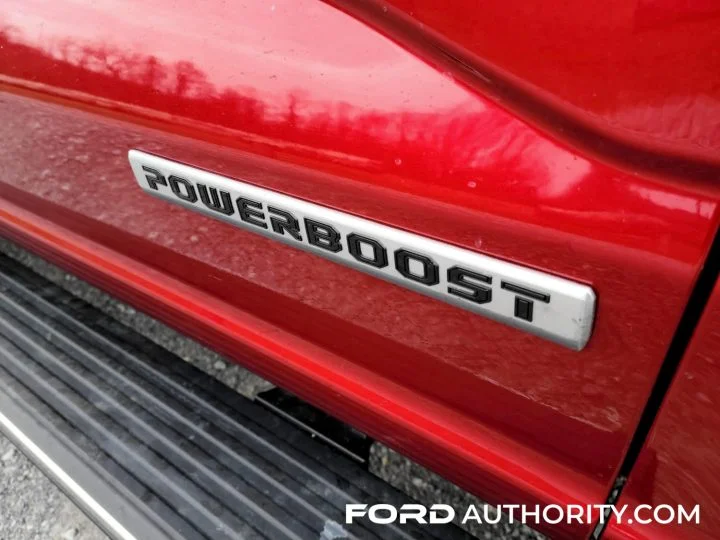 In terms of all-new additions, a new Lobo variant will likely be incorporated into the lineup. The F-150 Lobo would likely be an aesthetically distinct trim with a lowered ride height and other unique cosmetic elements. A new hybrid variant may be revealed as well. That said, the pickup will also retain some specialty models within the lineup too, such as the Heritage Edition, which is optional on XLT.
We expect the 2024 Ford F-150 to continue to be produced at Kansas City Assembly, as well as at the Dearborn Truck plant.