Earlier today, Ford revealed its very first contract proposal as it aims to negotiate a new deal with the United Auto Workers (UAW) union, one that included a total of 15 percent in wage increases, additional health care benefits, and the elimination of wage tiers. Ford CEO Jim Farley noted that he believes this deal is a good one for both sides, particularly as FoMoCo enters a new era of uncertainty surrounding the future of all-electric vehicles and the labor required to produce them. However, UAW President Shawn Fain doesn't agree, and just released a response to Ford's contract proposal.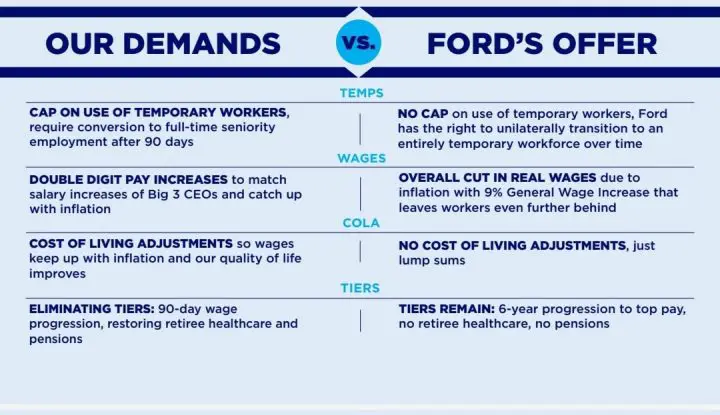 "So far, the only company that has given us a response is Ford," Fain said. "We met with the company on Tuesday and I wanted to take the opportunity to go through their proposal tonight with all of you. Just as a reminder, we are living in a golden era for the Big Three. Ford's revenue and profits are surging. Ford made over $10.4 billion in profits in 2022 and is on track to surpass that in 2023. Those are profits created by our hands. Our dedication. Our sacrifice. And those profits have resulted in unparalleled gains for company executives and rich shareholders. In fact, Ford CEO Jim Farley has said that Ford is entering 'the most promising period for growth in Ford's history.'"
There are a variety of issues that Fain and the UAW have with Ford's proposal, including the fact that it is only offering a nine percent increase in general wages, while the union is seeking a 40 percent jump. Additionally, while the UAW is looking to put a cap on the use of temporary workers, obtain cost of living adjustments, and eliminate all pay tiers, Ford responded by largely ignoring those demands, while also leaving a six-year progression to top pay, with no pensions or retiree healthcare.
"Ford's wage proposals not only fail to meet our needs, it insults our very worth," Fain said. "If Ford thinks we will accept a single digit pay increase and no COLA, then I hope these shareholders know how to work on an assembly line, because those are going to be the only people left to build cars come September 15th."
We'll have more on Ford's contract negotiations with the UAW soon, so be sure and subscribe to Ford Authority for 24/7 Ford news coverage.