From time to time, Ford Authority renders what we feel like might be solid-selling, viable Blue Oval models – or in many cases, just fun ideas that pop up. That list includes a hypothetical Ford Mustang Mach-E sedan, as well as a Mach-E Raptor. Now that FoMoCo has officially pulled the covers off its most capable and wildest pony car to date – the 2025 Ford Mustang GTD – it also seemed like the appropriate time to wonder – what if the automaker applied that same treatment to its EV counterpart, and came up with a Ford Mustang Mach-E GTD?
Well, it might just look something like this, truthfully. As is the case with the Mustang GTD, the Ford Mustang Mach-E variant would launch with some serious carbon fiber aero bits and pieces to help keep it glued to the track while also supporting the high-speed straights, coupled with a massive set of wheels and tires – in this case, finished in bronze. Out back, there's also a gigantic wing, just like its ICE-powered counterpart.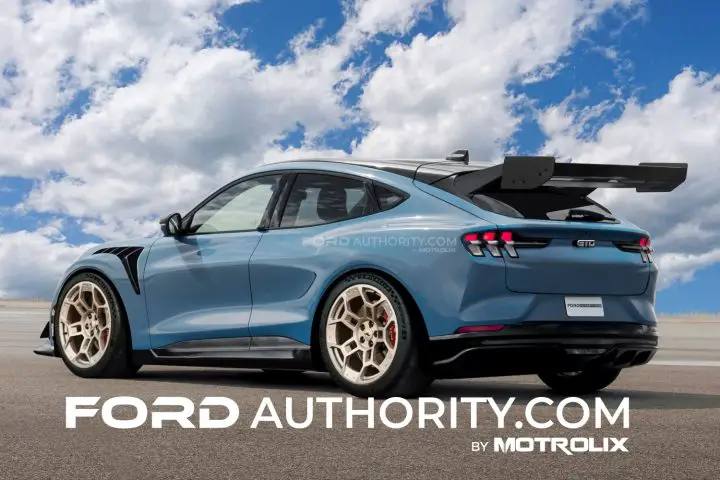 In addition to those styling elements, this theoretical Mach-E GTD is also equipped with some of the same parts present on the recently -revealed Mach-E Rally, such as its fog lamps that are integrated into the front "grille," though the hatch-mounted wing is obviously far larger than the one present on that model.
As for what might power this Mach-E GTD, it obviously wouldn't be some sort of special, supercharged, 5.2L V8 like the Mustang GTD, which is expected to generate north of 800 horsepower. Instead, Ford could simply opt to give it something even wilder – perhaps the same powertrain as the Mach-E 1400, which lays down an incredible 1,400 horsepower. Of course, that might rain on the Mustang GTD's pony car parade just a tad, but the concept of a Mach-E counterpart is nothing more than a dream at this point, anyway.
We'll have more fun renderings to share soon, so be sure and subscribe to Ford Authority for more Mustang Mach-E news and ongoing Ford news coverage.