YouTuber and and Blue Oval technician Brian Makuloco of the Ford Tech Makuloco channel has produced many helpful and informative videos over the years, many of them pertaining to the Ford Explorer. That includes covering topics such as air conditioning failure in a 2007 model, misfiring that can occur after a rainstorm in 2006-2010 models, and a rear camera problem affecting 2011-2019 Explorers. Now, Makuloco is back with another video, this time discussing an uncommon vibration issue that can occur in the 2014 Ford Explorer Police Interceptor Utility, specifically.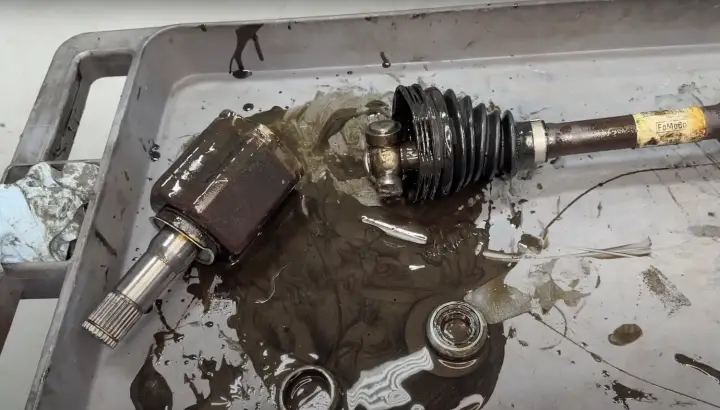 This particular 2014 Ford Explorer Police Interceptor Utility came into Makuloco's shop with 130,000 miles on the clock and was recently decommissioned. A customer purchased it at auction for a dirt cheap price, thinking that they would have a great vehicle to drive around town after they sunk a little money in it. Instead, the crossover wound up experiencing all sorts of issues – most notably, violent vibration stemming from the front end during acceleration.
The owner wound up spending a bunch of money replacing suspension components before giving up and bringing it to Makuloco, who soon found himself frustrated while trying to locate the source of the vibration issue, too. He ultimately strapped a GoPro underneath the Explorer, which revealed that the entire powertrain was shifting back and forth multiple inches during acceleration, in turn causing the extreme vibration issue. Thus, Makuloco changed out the engine and transmission mounts, which helped, but didn't eliminate the problem completely.
Ultimately, after talking with other techs about this issue, Makuloco discovered that this vibration problem is actually being caused by faulty CV axles, which have low or "dead" spots that essentially make it behave like a solid axle, at least temporarily, not allowing anything to move. Then, when it does, it transfers all that energy through the powertrain. It's an interesting problem for sure, but as is usually the case, we're just happy that Makuloco did the legwork, potentially saving others from having to go through the same long and frustrating diagnostic process.
We'll have more informative videos like this to share soon, so be sure and subscribe to Ford Authority for more Ford Explorer news and ongoing Ford news coverage.