The timing of the arrival of the all-new, S650 generation 2024 Ford Mustang is a bit interesting, given the fact that its chief rivals – the Chevy Camaro and Dodge Challenger – are facing uncertain, potentially all-electric futures – or, at the very least, ones that potentially don't involve V8 engines. In the meantime, the S650 has thus far impressed both on the dyno and the drag strip, looking like a superior option among its peers, too. Now, Throttle House has managed to directly compare a 2024 Ford Mustang Dark Horse against a Camaro LT1 and Challenger Scat Pack 392 Widebody, and the results, well, they aren't terribly surprising.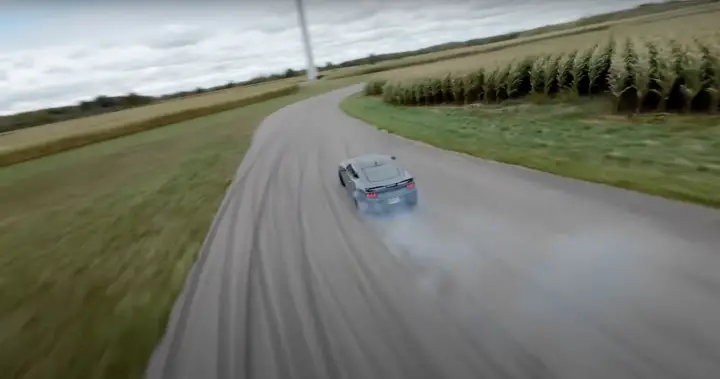 Each one of these models is equipped with a V8, rear-wheel drive, and a manual transmission, with the Camaro having the lowest output at 455 horsepower, followed by the Challenger at 485 horsepower and the 2024 Ford Mustang Dark Horse at 500. Right off the bat, the pony car takes home a fairly easy win in a conventional drag race, proving that it's more than capable of going fast in a straight line. Thus, the TH team lines up the trio for a roll race, and this one's closer – but the Mustang still takes home the win.
The next test, of course, is on a proper track with plenty of turns, but the Dark Horse continues to impress with its "ridiculous" brakes and competent suspension. TH deems its Tremec manual gearbox as a far superior unit to the much-maligned MT82 present in the GT, which is one of the most notable upgrades it offers. When the dust settles, the Dark Horse manages a best lap time of 1:10.22 – the eight fastest TH has ever managed – handily dusting its competition as well.
Ultimately, our hosts point out that Ford has seemingly fixed everything that they didn't like about the GT with the Dark Horse, whether it be the steering feel or the transmission, right down to the lack of vibrations they experienced in the former model. And while the DH is the winner by default given the fact that the Challenger and Camaro are going away (for a while at least), it certainly earned this particular win, regardless.
We'll have more on the Mustang and its competition soon, so be sure and subscribe to Ford Authority for more Ford Mustang news and continuous Ford news coverage.