The all-new, next-generation S650 2024 Ford Mustang debuted last September, but deliveries just began a few short weeks ago. Since then, we've seen lots of new pony cars out driving around, on dealer lots, and on the dyno, but inevitably, somebody was bound to get into an accident, as is always the case. The first involving an S650 technically happened back in April, though that was an RTR purpose-built drift car that crashed into a wall during a race. However, nearly one month ago, we saw a 2024 Ford Mustang GT pop up on Copart after a Hellcat driver reportedly smashed into it, totaling the poor pony car. Now, another 2024 Ford Mustang GT has crashed, but this time, it happened on the drag strip, as we can see in the TikTok video below.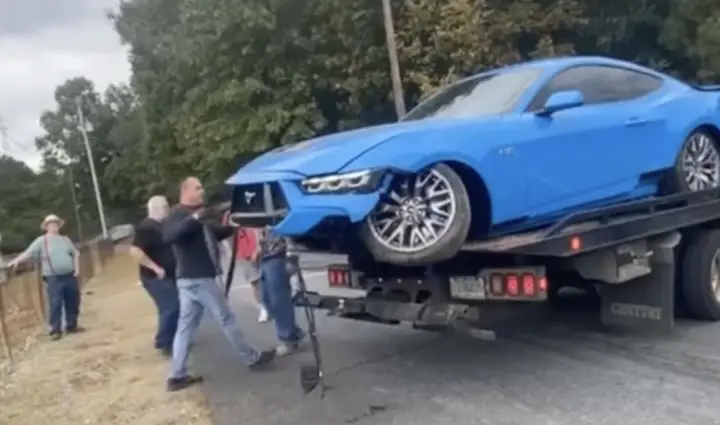 This particular 2024 Ford Mustang GT was racing a Cadillac CTS-V that appears to be heavily modified – given the presence of Weld wheels and big and little tires – which wasn't going very well as the Caddy leaped out to a considerable early lead. It's difficult to tell, as the camera stays with the Cadillac as it rockets by, but it seems as if the Mustang driver had some traction issues while heading down the track.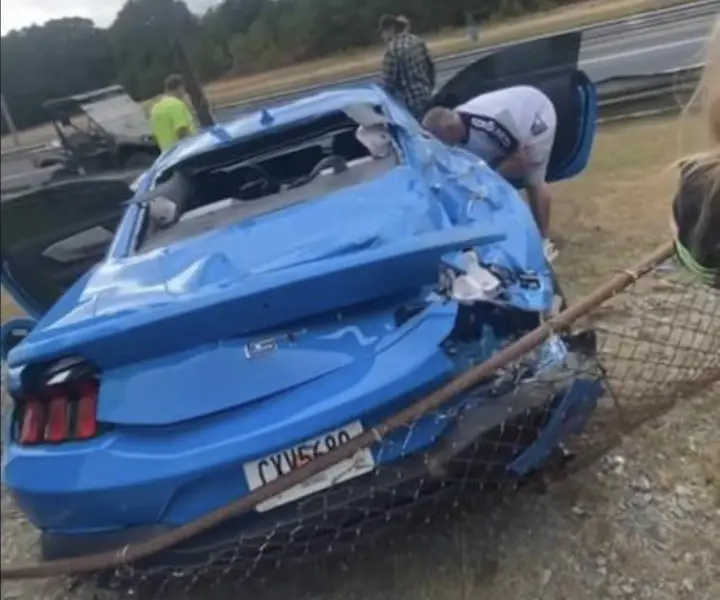 We say this because as the Cadillac crossed the finish line, we quickly see the Mustang cross into its lane, smash into the wall, and then drive up over it, at least partially. The video then cuts to the aftermath, which is pretty horrific to say the least – though it's precisely what one would expect from a high-speed, essentially head-on crash.
The poor 2024 Ford Mustang GT is clearly totaled after this accident, as both the front and passenger-side rear quarter are smashed in, one of the wheels is bent inward, and the airbags went off as well. Unfortunately for the owner, standard car insurance doesn't usually cover track mishaps either, so this might be a painful financial hit, to boot.
We'll have more wild videos like this to share soon, so be sure and subscribe to Ford Authority for more Ford Mustang news and non-stop Ford news coverage.