As is usually the case anytime a new vehicle launches, we've already seen multiple 2024 Ford Mustang models equipped with the Ford 5.0L V8 Coyote engine hit the dyno in recent weeks, with varying results. In fact, Middleton Motorsports has already strapped a GT and a Dark Horse (with the six-speed manual transmission) to the dyno, with the former putting down 408 horsepower and the latter 440 horsepower. Now, the folks at Steeda have managed to run both a 2024 Ford Mustang GT and Dark Horse on the same dyno, on the same day, in the same conditions, giving us perhaps our most accurate picture of how the two models stack up to date.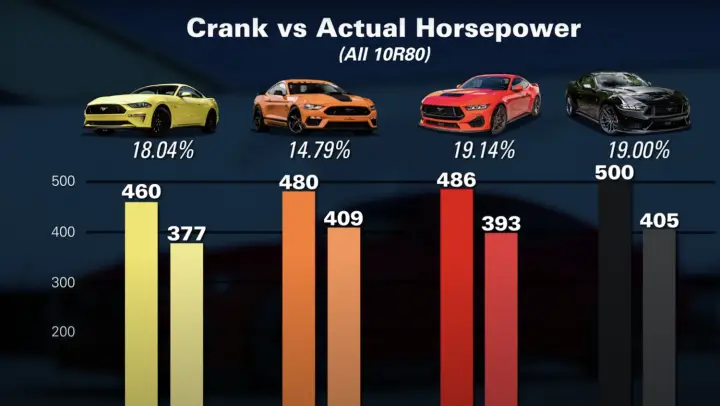 Both of these 2024 Ford Mustang models are equipped with the 10-speed automatic transmission and 3.55 rear gears, as well as 93-octane fuel in the tank, more than 1,000 miles on the odometer, and both pulls were conducted in fifth gear. Steeda does point out that its dyno tends to read a bit lower than most out there, but that's certainly nothing abnormal by any means. Additionally, both cars are equipped with a Steeda H-pipe resonator delete, so that could potentially unleash a bit more power.
When the dust settled, the 2024 Ford Mustang GT laid down 393 horsepower and 338 pound-feet of torque on the dyno, while the Dark Horse recorded 405 horsepower and 353 pound-feet. This was a mere three horsepower less than the Dark Horse put down with fewer miles on the clock, which somewhat debunks the thought that these cars need to be broken in first.
Those results also represent around a 20 percent parasitic loss on the dyno, which is within the realm of normalcy, particularly on Steeda's own dyno. It's also worth pointing out that manual-equipped cars tend to put down a bit more power on the dyno thanks to the presence of the speed limiter with the automatics, which prevents one from achieving a true 1:1 reading, but ultimately, these results are pretty much in line with what we've seen thus far.
We'll have more on the 2024 Ford Mustang soon, so subscribe to Ford Authority for the latest Ford Mustang news and comprehensive Ford news coverage.