Back in late August, Stellantis announced that the V8-powered Ram 1500 TRX was going away after the 2024 model year, a somewhat surprising decision given the fact that the muscular off-road-focused behemoth was quick to poke fun at its lone rival – the Ford F-150 Raptor – when it originally launched a few years ago, which prompted The Blue Oval to create the also-V8-powered F-150 Raptor R. However, as Ford Authority reported earlier this month, the TRX may in fact live on after all, albeit without a V8 under its hood, which could be replaced with the relatively new twin-turbocharged 3.0L Hurricane straight-six cylinder engine. Adding more fuel to this fire, the folks at Car Spy Media recently spotted what looks like a 2025 Ram 1500 TRX making very different sounds, too.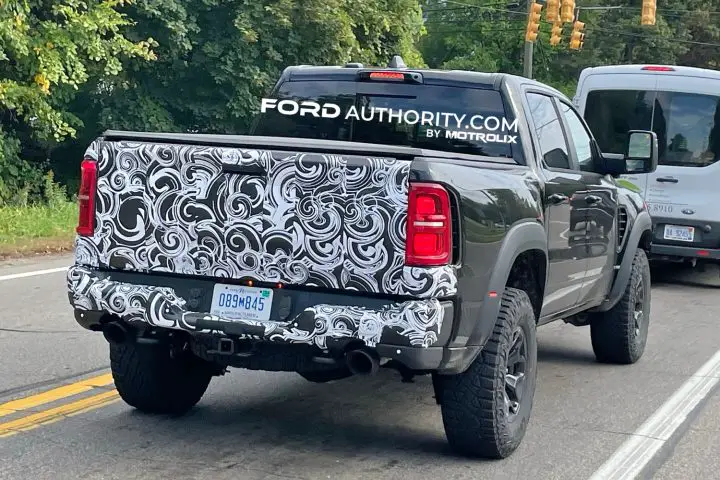 The purported 2025 Ram 1500 TRX seen in this video certainly sounds like it's powered by a six-cylinder engine of some sort, rather than the rumbly, supercharged V8 that powers the current model. It's also sporting the same wide bodywork, fender and hood vents, a trio of amber lights on the hood air duct, and 35-inch tires as a pair of prototypes recently spotted by Ford Authority.
This particular pickup is also wearing camo that conceals updates destined for the refreshed 2025 Ram 1500 lineup in general, including different headlights, a revised grille, new taillights, and a reworked tailgate. As for the aforementioned Hurricane powerplant, it produces 510 horsepower and 500 pound-feet of torque in top guise, but it's probably a safe bet that the TRX would receive a potentially substantial bump in that regard.
In the meantime, the Ford F-150 Raptor R lives on with the F-150's 2024 model year refresh, itself receiving a host of new features including revised exterior styling, a new modular front bumper, Shelter Green paint as an exterior color option, new graphics, Fox dual live-valve shocks with position-sensitive compression control and continuously variable rebound controls, and most notably, V8 power.
We'll have more on everything Ford's competition is up to soon, so be sure and subscribe to Ford Authority for continuous Ford news coverage.