The debut of BlueCruise 1.3 in the Ford Mustang Mach-E this summer once again brought about several improvements to the automaker's hands-free highway driving assist feature, such as the ability to let drivers stay engaged in hands-free mode up to three times longer than version 1.2 and five times longer than version 1.0. In the meantime, BlueCruise users, in general, continue to rack up miles with that feature activated, surpassing the 125 million mile mark in Q3 of this year – an increase of 33 percent over Q2. BlueCruise continues to earn its fair share of accolades as well, most recently retaining its title as Consumer Reports' top-rated active driving assistance systems (ADAS), and it also performed admirably in a recent test conducted by Edmunds, though it did rank behind two of its rivals.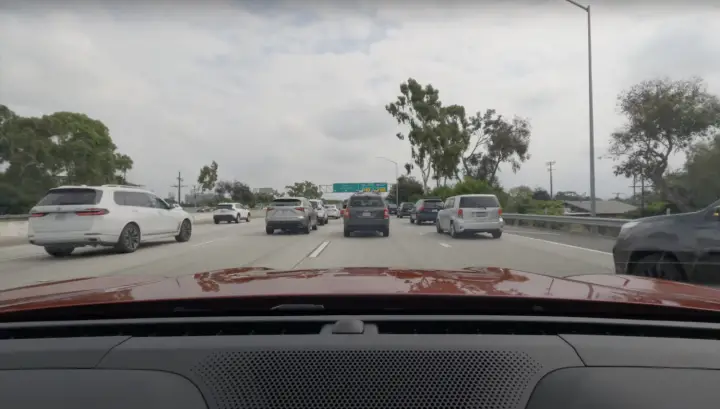 In this particular test, Edmunds gathered up a host of vehicles equipped with the latest in ADAS systems and drove them down the notoriously traffic-heavy 405 freeway in Los Angeles. That list included a Mustang Mach-E with BlueCruise 1.3, a Cadillac CT4-V with Super Cruise, a BMW i7 equipped with Driving Assistant Plus, and a Tesla Model Y Performance featuring Autopilot with Full Self-Driving (FSD).
Right off the bat, BlueCruise received quite a bit of praise for how easy it is to activate, though there are times when it's simply easier to just take control oneself. For example, being in heavy traffic, the system won't do a lane change automatically for safety's sake, but otherwise, our reviewer is seriously impressed with the 1.3 update. Clearly – as we can see when another car pulls out in front of him – you still have to be paying attention, but otherwise, the system performs quite nicely during normal driving.
When the test concludes, Edmunds ranks Tesla last – solely for the fact that it isn't a hands-free system and requires one to put their hands on the wheel every so often – followed by Ford, mostly thanks to its lane changing limitations. Our reviewers also don't like the fact that the system doesn't give any sort of clear audible warning when one needs to take control, too. The BMW, on the other hand, worked smoothly and did a good job changing lanes, while Super Cruise did a pretty solid job of everything – making it the winner this time around. However, with improvements coming to these systems on a regular basis, this is one battle that won't be settled for a long time.
We'll have more on BlueCruise soon, so be sure and subscribe to Ford Authority for ongoing Ford news coverage.