In recent years, we've seen that certain vehicles – which weren't really designed to be rally cars – can in fact serve as suitable rally machines, a list that includes the Ford Bronco Sport crossover and Ford Bronco Raptor SUV, both of which were subjected to that type of test by the folks at Team O'Neill, a car control and racing school based in New Hampshire. For its most recent installment, host Wyatt Knox applied this same series of high-speed off-road testing to a Ford Crown Victoria Police Interceptor, and as it turns out, that big sedan makes a pretty solid rally machine, too.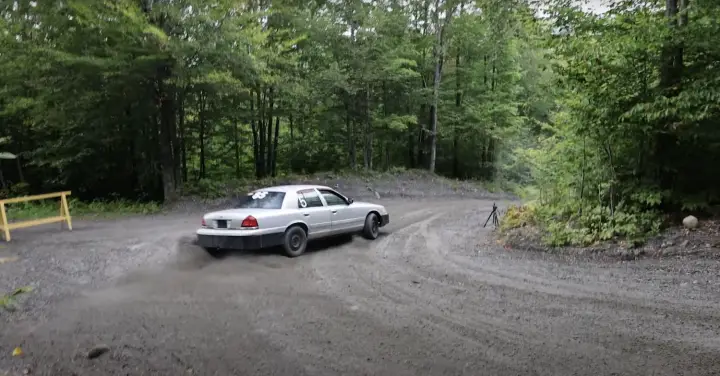 As most Blue Oval fans are well aware, even though it's been out of production for quite a while, there are plenty of Crown Vics out there in the world, selling for little money – but the law enforcement-focused Ford Crown Victoria Police Interceptor makes a particularly desirable target. With V8 power underhood and a rear-wheel drive configuration, they also make great vessels for a little sideways fun, too.
On top of that, the Police Interceptor got a beefier suspension, bigger brakes, and improved cooling, which is precisely why people seek them out for performance builds these days, as well as parts donors for vintage pickups. Of course, it's pretty heavy with a curb weight of more than 4,000 pounds, but this one still performed quite well around the team's test loop.
When the dust settled, the big sedan completed the course in 2:01:16, which was quicker than a Toyota Tacoma, Dodge Charger, and Kia Sedona, though slower than everything else that's been tested thus far. However, as our host points out, someone wanting to transform one of these Crown Vics into a rally machine could shave quite a bit of weight off and have a pretty darn competent racer on their hands.
We'll have more cool videos like this to share soon, so be sure and subscribe to Ford Authority for more Crown Victoria news and non-stop Ford news coverage.