With the United Auto Workers (UAW) strike against Ford, General Motors, and Stellantis on the cusp of reaching the one month mark, the union has thus far walked out of several plants owned and operated by the Detroit Big Three automakers. On The Blue Oval side of the equation, that includes the Michigan Assembly plant, which builds the Ford Bronco and Ford Ranger, the Chicago Assembly plant, where it produces the Ford Explorer and Lincoln Aviator, and just last night, it added the Kentucky Truck plant to that list, which produces the Ford Super Duty, Ford Expedition, and Lincoln Navigator. As a result, FoMoCo has also laid off over 1,000 workers at various other facilities that support those plants, and that number continues to grow, as the automaker has laid off an additional 58 workers at the Sterling Axle plant.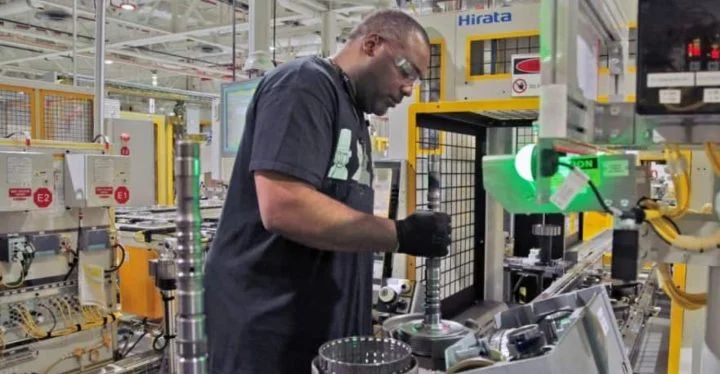 "Our production system is highly interconnected, which means the UAW's targeted strike strategy will have knock-on effects for facilities that are not directly targeted for a work stoppage," Ford said in a statement. "In this case, the strike at Chicago Assembly Plant has directly impacted some operations at Sterling Axle Plant. An additional 58 Sterling Axle Plant employees were asked not to report to work beginning October 11th, bringing Sterling Axle's layoff total to 133. Those employees will be coded with the appropriate code beginning at their next reported shift and continuing until further notice. This is not a lock out. This layoff is a consequence of the strike at Chicago Assembly Plant, because Sterling Axle Plant must reduce its production of parts that would normally be shipped to Chicago Assembly Plant."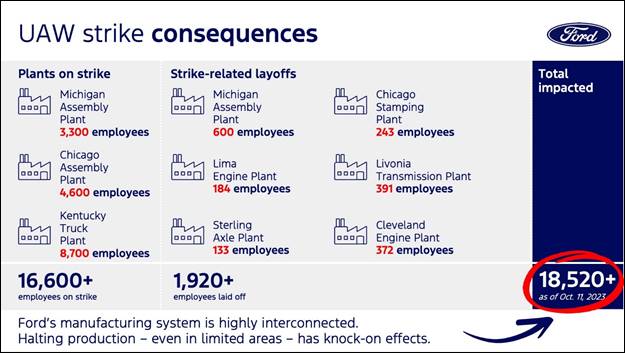 After laying off 600 workers at the Michigan Assembly plant, the expanded strike at Chicago Assembly has thus far resulted in 243 layoffs at the Chicago Stamping plant, 184 at the Lima Engine plant in Ohio, as well as 391 at the Livonia Transmission plant, 133 at the Sterling Axle plant, and 372 at the Cleveland Engine plant – for a total of 1,920 total layoffs. However, it isn't just Ford and its counterparts that are feeling the effects of the the UAW strike, as it's also impacting around 30 percent of automotive suppliers as well.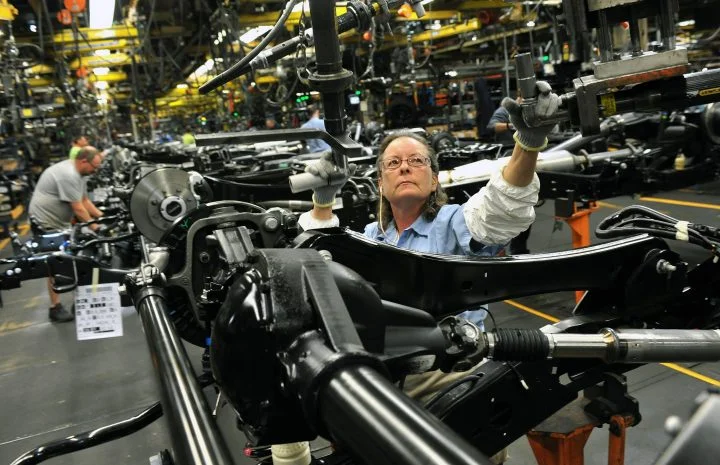 In spite of the fact that UAW President Shawn Fain recently said that the union has made "significant" progress in contract talks, two major sticking points remain that have yet to be overcome – the union's desire to restore the same retirement security that was previously provided by pre-2007 defined benefit pension plans, as well as including existing and future joint-venture EV battery plants in master contracts with automakers
We'll have more on the UAW strike soon, so be sure and subscribe to Ford Authority for the latest Ford-UAW news, UAW news, and comprehensive Ford news coverage.
Update: Ford spokesperson Daniel Barbossa reached out to clarify the number of employees laid off at each plant thus far, as some previously-reported numbers were incorrect.