At the moment, officials within the UK government are battling it out over a proposed 2030 ICE ban, which some support, while others feel like such a goal is simply unattainable given the current state of infrastructure and other factors. Regardless, Ford has supported such a move from day one, which isn't a surprise as it aims to go all-electric across Europe by 2030 or sooner, launching a bevy of new models in the region to accomplish that goal. However, with the launch of the new Ford Explorer EV recently being pushed back as it awaits the arrival of next-gen battery tech and the Ford Mustang Mach-E proving to be a slow seller in the UK, The Blue Oval may soon face a different kind of problem in that country – hefty fines from the government, according to Automotive News Europe.
Next year, the UK's new zero-emission vehicle (ZEV) mandate is set to begin to take effect, meaning that 22 percent of all new vehicle registrations from each automaker must consist of electric or fuel cell vehicles. Automakers that don't hit that percentage can expect to receive some hefty fines of 15,000 pounds ($15,829 USD) per car or 9,000 pounds ($10,931) per van sold.
This is a problem for Ford and most other automakers, as it currently owns just a two percent share of the EV market in the UK, meaning that it would be forced to pay some of the highest fines in the industry if that doesn't ramp up that figure drastically in the coming months. It wouldn't be alone in that regard, however, as the only automakers besides the all-EV Tesla and Polestar that currently meet this requirement are MG (41 percent), Cupra (31 percent), Porsche (29 percent), BMW (25 percent), and Mercedes (22 percent).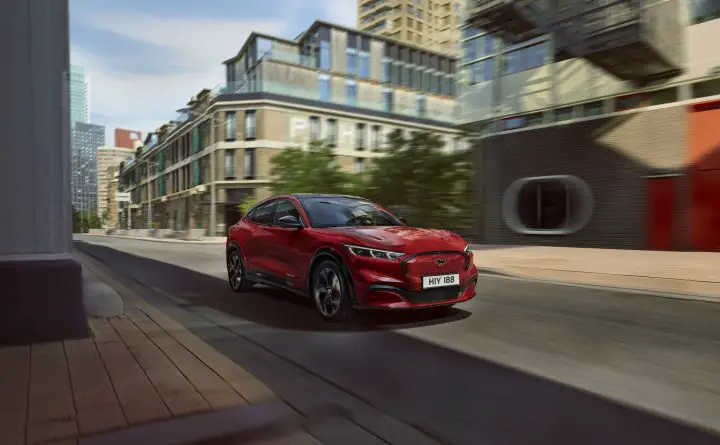 Based on registration data as of the end of September, automakers could be staring at a total of 2.4 billion pounds ($2.91 billion USD) in fines, in fact, as EVs currently make up just 18 percent of the market. Things stand to get even worse in future years, as the required percent of ZEV registrations rises to 28 percent in 2025, 80 percent in 2030, and 100 percent in 2035.  While automakers can't pool together with other brands not under their corporate umbrella to avoid these fines – as is the case with CAFE standards – they can buy credits from companies with a higher percentage of EV sales, borrow against anticipated future over-compliance, and convert extra CAFE targets into credits.
We'll have more on Ford's all-electric future soon, so be sure and subscribe to Ford Authority for more Mustang Mach-E news and non-stop Ford news coverage.