Ford Motor Company sales increased eight percent to 500,504 units during third quarter of 2023 in the United States. Sales increased at both Ford and Lincoln.
"We saw strong balanced sales growth providing choice to our customers in the third quarter, with growth coming from our gas engine, electric, hybrid and commercial van lineup," said Vice President, Sales, Distribution and Trucks, Andrew Frick. "Ford's truck lineup remains the industry's top seller. The Maverick and Bronco Sport remain red hot after Ford boosted manufacturing capacity earlier this year," he added.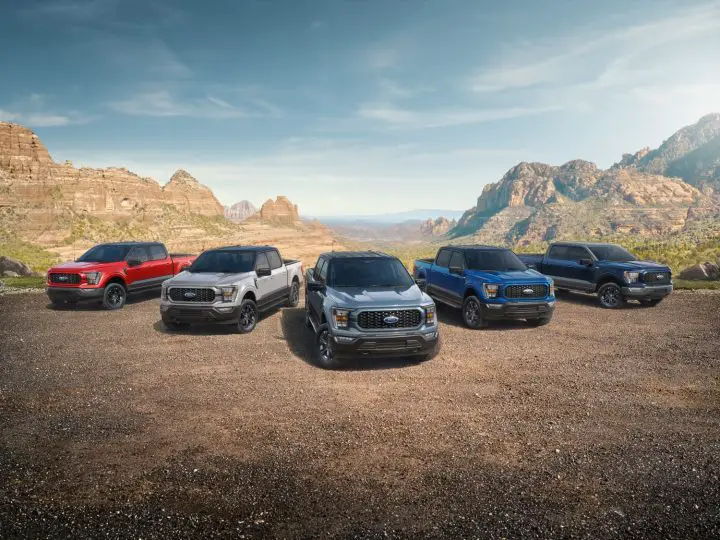 FoMoCo Sales Notes – U.S. Q3 2023
Total Ford Motor Company sales during third quarter of 2023 increased 7.7 percent to 500,504 units

Truck sales increased 15.3 percent to 275,554 units
SUV sales decreased 0.1 percent to 215,106 units
Car sales decreased 5.1 percent to 9,844 units
Electric vehicle sales totaled 20,962 units, up 14.8 percent year to year
Hybrid vehicle sales totaled 34,861 units, up 41.4 percent year to year
Internal combustion sales totaled 444,681 units, up 5.4 percent year to year

Ford Continues as America's No. 1 selling truck manufacturer as total truck sales expand in Q3

Ford overall Q3 truck sales, including pickups and vans, are up 15.3 percent over last year on sales of 275,554 vehicles
Big gains came from the all-new Super Duty pickups (up 17.6 percent), Maverick (up 83.4 percent) and Transit (up 28.3 percent)
With 825,179 pickups and vans sold through September of this year, Ford has outsold GM's pickups and vans by approximately 64,000 vehicles

Ford posts best-ever electric vehicle sales in Q3, thanks to Mustang Mach-E and E-Transit
Sales of Transit, America's No. 1 van, climbed 28.3 percent while Ford's overall full-size van segment share grew to 42.1 percent – up 3.4 points over Q3 last year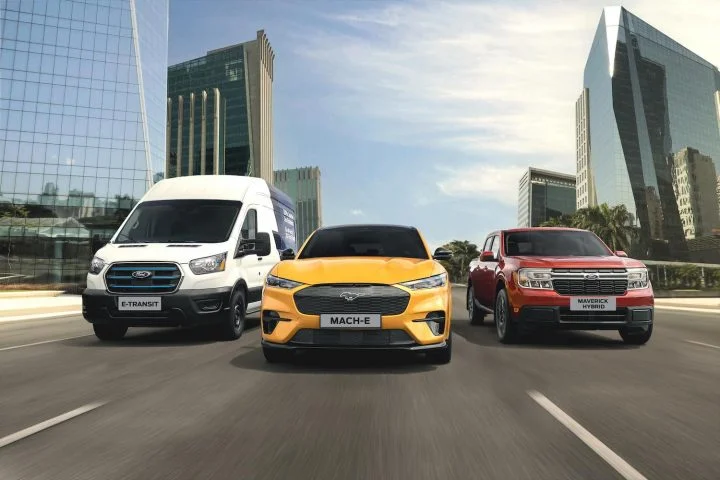 Brand & Model Sales
Ford sales increased 7.98 percent to 480,121 units:
Lincoln sales increased 1.78 percent to 20,383 units:
During the first nine months of the 2023 calendar year, Ford Motor Company sales increased 9.2 percent to 1,508,072 units.
Sales Results - Q3 2023 - USA - Ford
| MODEL | Q3 2023 / Q3 2022 | Q3 2023 | Q3 2022 | YTD 2023 / YTD 2022 | YTD 2023 | YTD 2022 |
| --- | --- | --- | --- | --- | --- | --- |
| BRONCO | +4.26% | 32,888 | 31,545 | +5.88% | 91,468 | 86,387 |
| BRONCO SPORT | +55.09% | 33,232 | 21,427 | +20.50% | 96,375 | 79,976 |
| E-SERIES | +13.38% | 10,982 | 9,686 | +37.25% | 30,502 | 22,223 |
| E-TRANSIT | +89.78% | 2,617 | 1,379 | +26.03% | 5,529 | 4,387 |
| ECOSPORT | -100.00% | 0 | 8,262 | -90.42% | 2,508 | 26,186 |
| EDGE | +49.76% | 24,217 | 16,170 | +4.55% | 70,701 | 67,623 |
| ESCAPE | +9.56% | 38,774 | 35,391 | -5.21% | 103,613 | 109,311 |
| EXPEDITION | -9.06% | 17,061 | 18,760 | +35.62% | 56,427 | 41,607 |
| EXPLORER | -36.79% | 33,709 | 53,326 | -11.59% | 138,132 | 156,243 |
| F-150 LIGHTNING | -45.81% | 3,503 | 6,464 | +39.95% | 12,260 | 8,760 |
| F-SERIES | +15.77% | 186,974 | 161,498 | +22.37% | 561,110 | 458,547 |
| GT | -100.00% | 0 | 17 | -58.67% | 31 | 75 |
| HEAVY TRUCKS | +4.49% | 3,396 | 3,250 | +19.92% | 11,198 | 9,338 |
| MAVERICK | +83.39% | 23,931 | 13,049 | +28.24% | 66,430 | 51,802 |
| MUSTANG | -4.93% | 9,844 | 10,354 | -3.51% | 35,315 | 36,598 |
| MUSTANG MACH-E | +42.52% | 14,842 | 10,414 | +2.82% | 28,882 | 28,089 |
| RANGER | -40.70% | 7,385 | 12,453 | -31.95% | 31,503 | 46,293 |
| TRANSIT | +24.93% | 31,389 | 25,126 | +44.69% | 92,523 | 63,946 |
| TRANSIT CONNECT | -11.50% | 5,377 | 6,076 | -30.02% | 14,124 | 20,183 |
| FORD TOTAL | +7.98% | 480,121 | 444,647 | +9.95% | 1,448,631 | 1,317,574 |
Sales Results - Q3 2023 - USA - Lincoln
| MODEL | Q3 2023 / Q3 2022 | Q3 2023 | Q3 2022 | YTD 2023 / YTD 2022 | YTD 2023 | YTD 2022 |
| --- | --- | --- | --- | --- | --- | --- |
| AVIATOR | -74.54% | 1,463 | 5,746 | -42.05% | 9,676 | 16,696 |
| CORSAIR | +25.85% | 7,852 | 6,239 | -13.78% | 17,483 | 20,277 |
| NAUTILUS | +32.36% | 6,541 | 4,942 | +12.50% | 18,897 | 16,797 |
| NAVIGATOR | +46.03% | 4,527 | 3,100 | +46.28% | 13,385 | 9,150 |
| LINCOLN TOTAL | +1.78% | 20,383 | 20,027 | -5.53% | 59,441 | 62,920 |
Sales Results - Q3 2023 - USA - FMC Totals
| BRAND | Q3 2023 / Q3 2022 | Q3 2023 | Q3 2022 | YTD 2023 / YTD 2022 | YTD 2023 | YTD 2022 |
| --- | --- | --- | --- | --- | --- | --- |
| FORD TOTAL | +7.98% | 480,121 | 444,647 | +9.95% | 1,448,631 | 1,317,574 |
| LINCOLN TOTAL | +1.78% | 20,383 | 20,027 | -5.53% | 59,441 | 62,920 |
| FMC USA TOTAL | +7.71% | 500,504 | 464,674 | +9.24% | 1,508,072 | 1,380,494 |
About The Numbers
Further Reading & Sales Reporting
Running Ford Motor Company sales numbers
Ford Motor Company Q3 2023 sales reports:

Ford Motor Company sales Q3 2023 U.S.A

Ford sales Q3 2023 U.S.A. (Ford brand)
Lincoln sales Q3 2023 U.S.A.
Ford Motor Company sales September 2023 U.S.A.

Ford China sales Q3 2023
Ford Motor Company Canada sales Q3 2023

Ford Canada sales Q3 2023
Lincoln Canada sales Q3 2023

Ford Motor Company Argentina sales Q3 2023
Ford Motor Company Colombia sales Q3 2023
Ford Motor Company Brazil sales Q3 2023
Ford Motor Company Mexico sales Q3 2023

Ford Motor Company Mexico sales August 2023
Ford Motor Company Mexico sales September 2023