Ford's negotiations with the on-strike United Auto Workers (UAW) have seemingly hit the proverbial wall as of late, with the automaker noting that it has reached the limit of what it can offer the union at the moment. For now, the major barriers to a new contract are the UAW's desire to include future EV plants in that document, as well as achieving beefed-up retirement benefits. Regardless, the UAW opted not to expand its strike against Ford last week – though it did walk out of Stellantis' Sterling Heights Assembly Plant yesterday – but the automaker continues to lay off workers impacted by current closures. Now, the UAW has revealed what FoMoCo and its counterparts are currently offering it, giving us a better view of how these negotiations are proceeding.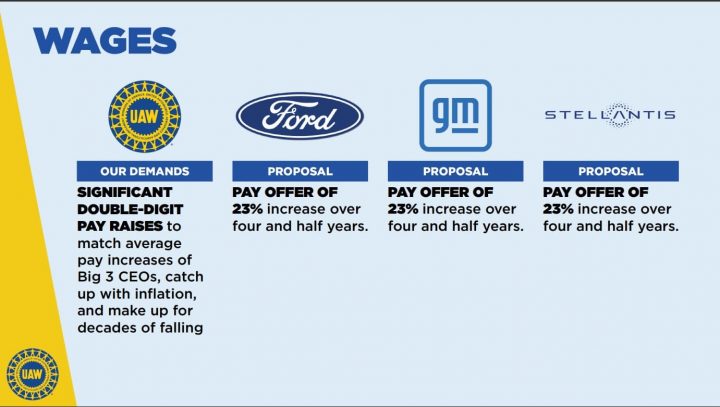 Wages
Currently, all three automakers are offering a 23 percent pay increase over four and a half years, though it seems as if the union isn't done asking for more just yet. "At all three companies, as of this week, we have a 23 percent raise on the table," said UAW President Shawn Fain. "That's up from 20 percent just a few days ago, and up from 9 percent when they made their first offer. The companies kept saying they hit their limit, and then their limit went up. We think there's more ground to gain."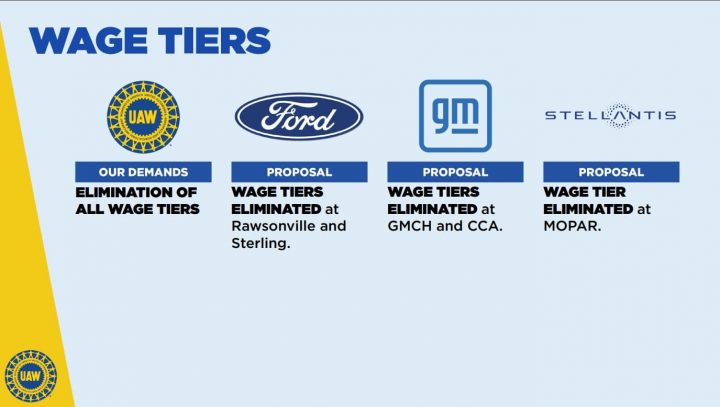 Wage Tiers
Ford has proposed eliminating wage tiers are its Rawsonville and Sterling plants, though the union is seeking to end them across the board. "At all three companies, we have killed massive wage tiers," Fain said. "This is a major win and has been a major priority. We believe in equal pay for equal work. At Stellantis, Mopar workers will make production wages. At GM, CCA and GMCH workers will make production wages. At Ford, Sterling Axle and Rawsonville workers will make production wages. This represents huge raises for those members and will end the toxic wage tier divide among these members."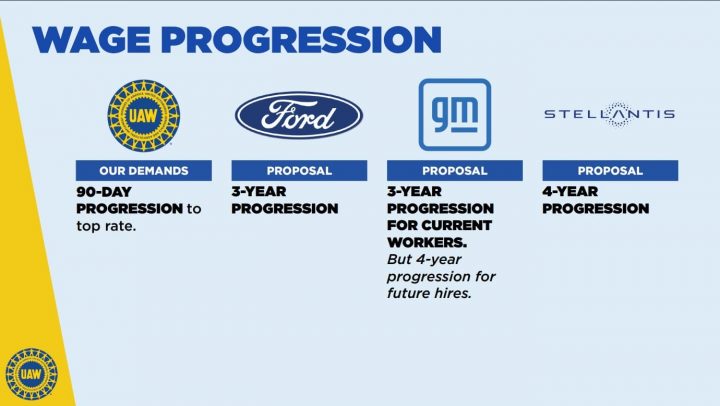 Wage Progression
In terms of the time it takes UAW workers to reach the top tier of wages, Ford and GM are proposing three years and Stellantis four, though the union wants these reduced to just 90 days. "We started these negotiations with a ridiculous eight-year progression, Fain said. "At Ford, we got it down to a three-year progression, where it was in the mid-1990s. At Stellantis, they're still stuck on a four-year progression. At GM, they want to two-tier the progression, with three years for all current employees, and four years for future hires. Obviously, that is not going to fly. If Ford can do it, so can GM and Stellantis, and we are not adding a new tier."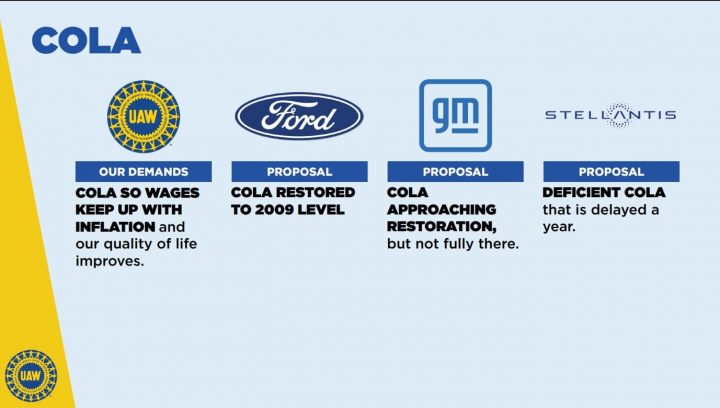 COLA
Ford is proposing that a cost of living increase be restored to the same level it was at in 2009, before it was eliminated. "At Ford, we have won the COLA formula back to where it was in 2009 – something we were told was impossible," Fain said. "At GM, we're really close, with some tweaks left to be made. At Stellantis, we've still got a deficient COLA formula on the table, that doesn't kick-in for the first year."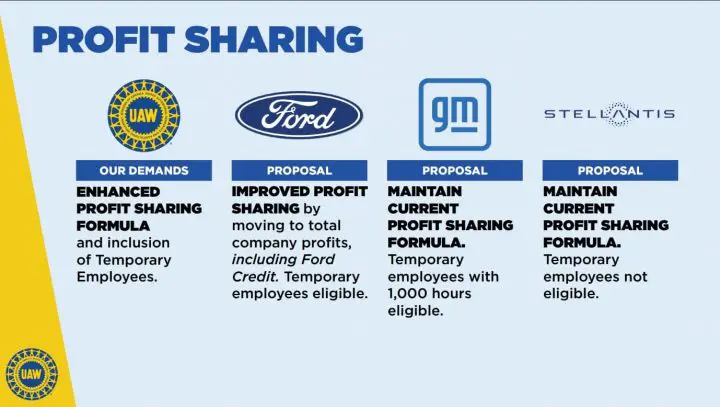 Profit Sharing
In terms of profit sharing, Ford wants to move to total company profits for its formula, which meets the union's ask. "At all three companies, we've been able to beat back concessionary profit-sharing proposals," Fain said. "At Ford, we've actually enhanced the formula, and temporary workers with 90 days of service will now be eligible. At GM, we've maintained profit sharing, but added eligibility for temporary workers with 1,000 hours on the job. At Stellantis, we've maintained, but haven't yet won eligibility for temporary workers."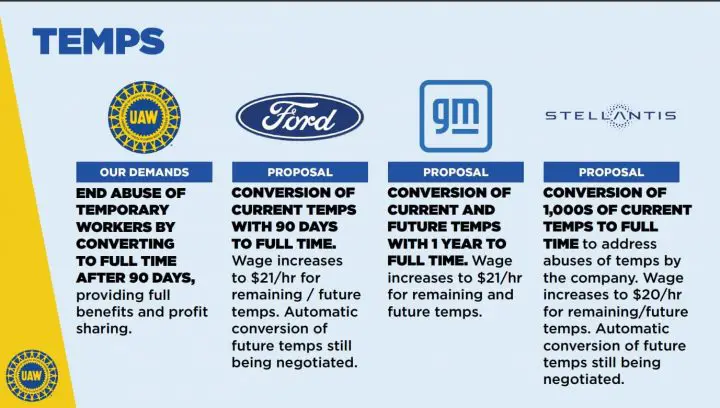 Temporary Workers
Ford has proposed making its current temp workers permanent within 90 days, along with giving them a pay boost. "We're fighting to end the abuse of so-called temporary workers who make lower wages, have fewer rights, and little job security," Fain said. "At Ford, we've raised the temp wage to $21 an hour, and won conversion of all current temps with 90 days of service. At GM, we've also hit $21 an hour for temps, with all the temps who have a year in getting immediately converted to full time. At Stellantis, the temp wage is still at $20 an hour, and we're going to convert thousands of temps. At all three, we're still negotiating a pathway for future temps to get converted to end the abuse of these members. We're fighting hard to win language across the Big Three that will make sure that temporary work is just that – temporary."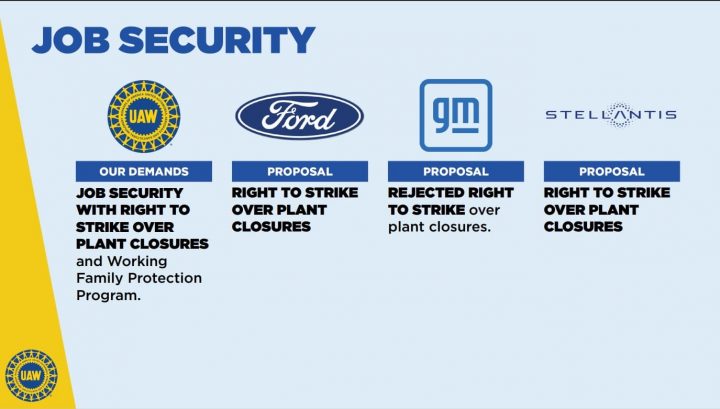 Job Security
Ford is offering to let UAW workers strike over plant closures, which is not something GM is keen to do "One of our biggest proposals on job security has been the right to strike over plant closures," Fain said. "They can't keep closing plants without any consequences. At Ford and Stellantis, we've won that right. We will keep our jobs secure with the most powerful weapon we have, the strike threat. At GM, the company still won't grant it."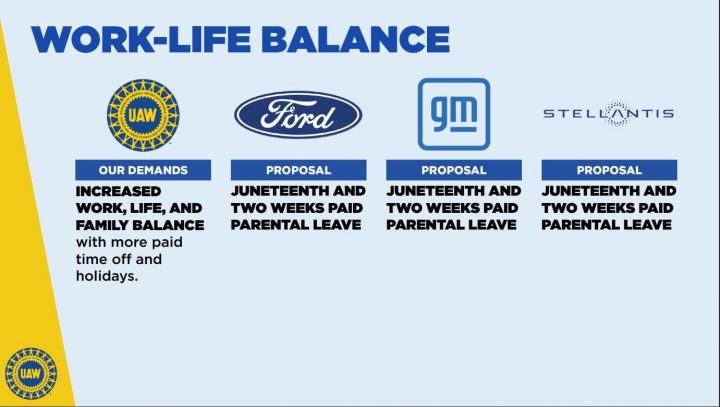 Work Life Balance
In terms of work life balance, all three automakers are willing to provide more time off, too. "At all three companies, we've won an additional holiday, Juneteenth, and two weeks of paid parental leave, a first for our members at the Big Three."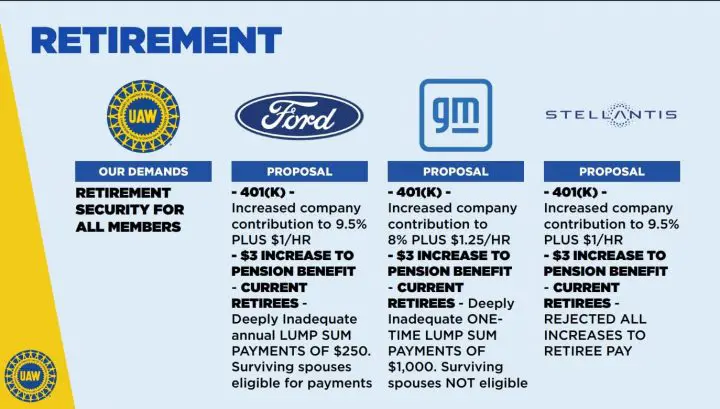 Retirement
Finally, we have the topic of retirement, with all three companies proposing similar changes. "We know we need to fix our broken retirement system at the Big Three," Fain said. "All three companies are now offering a $3 increase to the pension multiplier, and boosting the 401k, though GM lags behind. Ford and Stellantis are offering a 9.5 percent employer contribution to the 401k, and GM is offering just 8 percent. For current retirees, Ford is offering a $250 annual lump sum payment, and GM just a one-time $1,000 lump sum. Stellantis isn't offering anything on that front."
We'll have more on the UAW strike soon, so be sure and subscribe to Ford Authority for the latest Ford-UAW news, UAW news, and 24/7 Ford news coverage.