In recent years, more and more aftermarket outfits are utilizing the Ford Super Duty as the basis for all kinds of cool overlanding builds, vehicles deigned to serve as mobile living spaces that can travel just about anywhere off the beaten path. These pricey yet awesome rigs are available in all kinds of configurations as well, giving customers plenty of choices in terms of amenities and layouts. Now, we have yet another new offering to add to this growing list – the Silver Spear from Toro Bravo 4×4, which is based on the Ford F-450 Super Duty with four-wheel drive.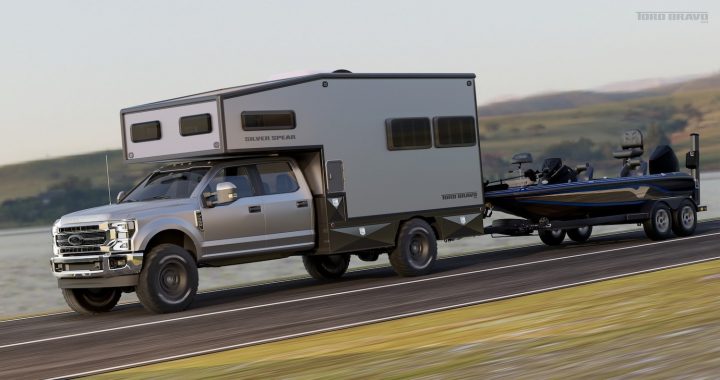 The Silver Spear is a bit different than some other overlanding rigs we've seen in recent years, as it's designed to be an all-in-one work truck, RV, and toy hauler, which helps justify its lofty price tag. Toro Bravo 4×4 starts with a Ford F-450 Super Duty chassis and adds a host of amenities including a queen-sized bed, a stainless steel shower, a wet bath, two ceiling mounted bunk beds, a portable 25-gallon Dual-Zone powered cooler, and a ramp, which can be used as a porch, a cook station, or a workbench. The Silver Spear supports up to six solar panels, 600 amp hours of battery storage, 30 gallons of freshwater storage, and 30 gallons of greywater storage, and also features a modular 3D printed kitchen system, interior toy hauling, and towing capability for boats, jet skis, UTVs, and horse trailers.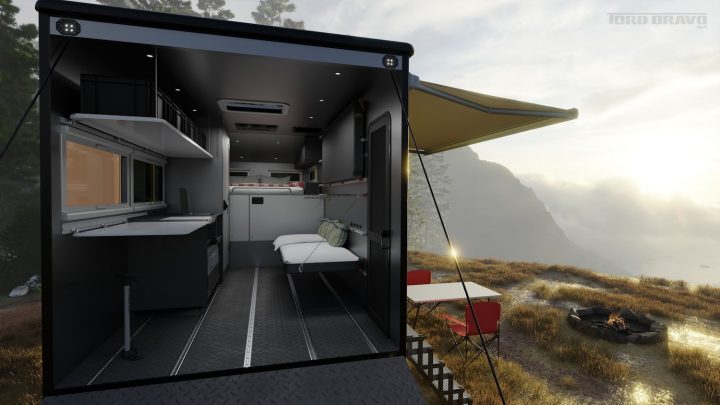 "There is nothing else on the market like the Silver Spear, designed for contractors, hunters, fisherman, families, people who like to haul toys and those who would prefer to haul gear to the outdoors instead of hauling their living room to a campsite like the rest of the RV's on the market. There is a new generation of RV customers and overlanders looking for a vehicle like the Silver Spear and now it has arrived." says Rohrer. "With RV sales expected to see a 22 to 24 percent growth industry wide from 2023 to 2024 according to the RV Association, the Toro Bravo 4×4 Silver Spear stands out from competitors, many of which are 4×2 with limits to roadside travel and off-road capabilities. Silver Spear users can choose the roads less traveled and get away from the crowds in shore power campgrounds with all the comforts of home."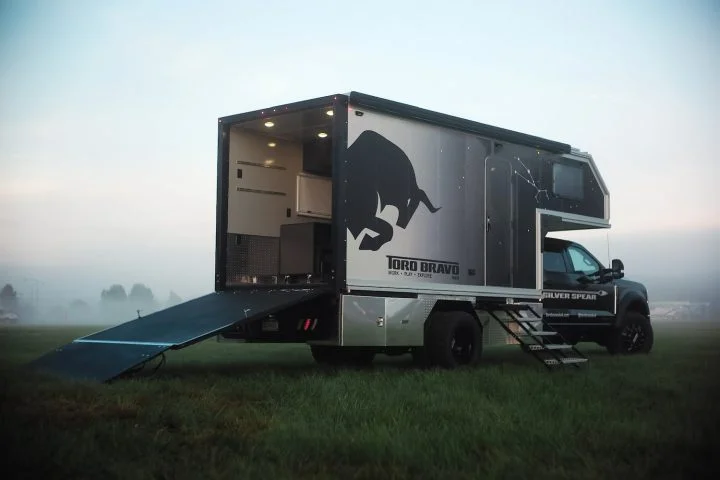 The Silver Spear is available with a starting MSRP of $299,000, and will be assembled by Roush in Detroit, Michigan starting in January 2024, with deliveries expected to begin in March.
We'll have more cool camper conversions like these to share soon, so be sure and subscribe to Ford Authority for the latest Ford F-Series news, Ford Super Duty news, and continuous Ford news coverage.