With the Dodge Challenger and Chevy Camaro facing an uncertain (and possibly all-electric) future, the all-new 2024 Ford Mustang is losing rivals at a rapid pace. There simply aren't that many sporty, rear-wheel drive coupes with an available manual transmission for sale anymore, though the Toyota Supra – which made a return just a few years ago – is such a vehicle. Since it began shipping back in August, the new Mustang has thus far proven to be a hot entity, and as Ford Authority previously reported, FoMoCo also benchmarked a Supra against the new S650 model prior to its launch. Now, Ford Authority has spotted what could be the forthcoming Toyota Supra GRMN out testing for the very first time, too.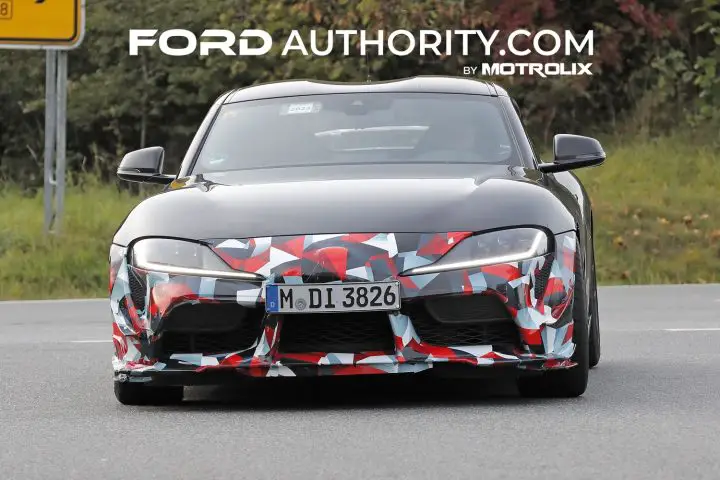 To date, the Supra has been available with both a four- and six-cylinder powerplant, but this potential Toyota Supra GRMN – which was spotted testing at the Nürburgring wearing some unique camouflage typically reserved for GR variants – could be an even hotter version of the existing coupe. There are some other tell-tale signs present, such as a larger front slip, canards, a large rear wing, and lightweight wheels, which cover what appear to be beefier brakes than the regular Supra.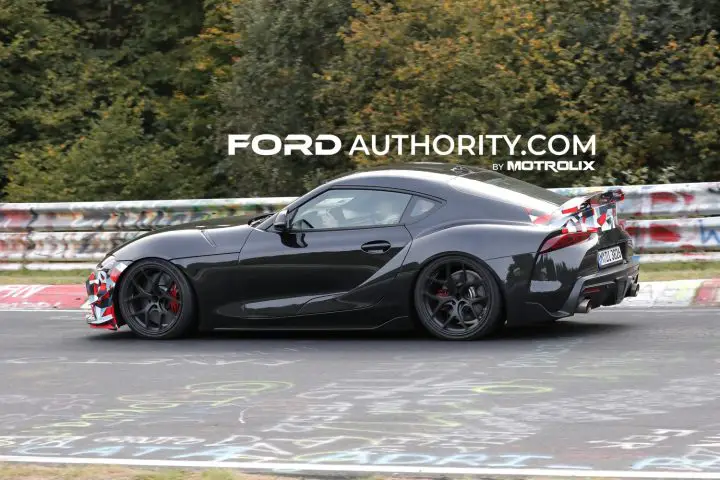 Rumors regarding what might power the Toyota Supra GRMN have swirled for years to this point, with the most recent pointing to the twin-turbocharged 3.0L I-6 currently utilized in the BMW M4 CSL, where it makes 543 horsepower and 480 pound-feet of torque. However, it's more likely that the GRMN might launch with the regular M4's twin-turbo 3.0L powerplant making a lesser 473 horsepower and 405 pound-feet of torque, mated to a six-speed manual gearbox or perhaps the eight-speed automatic.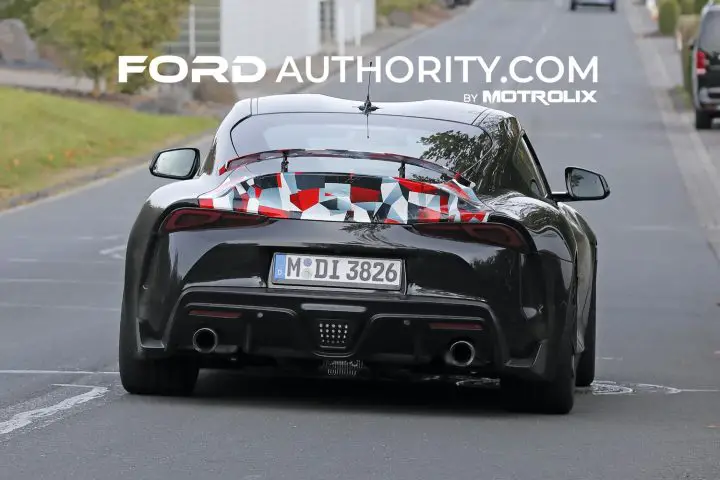 If true, even the lesser engine choice would make the Toyota Supra GRMN a suitable rival for the Ford Mustang GT and Dark Horse, which generate 480 horsepower (or 486 with the optional active exhaust) and 500 horsepower, respectively, while each is also offered with either a six-speed manual or eight-speed automatic transmission.
We'll have more on everything Ford's competition is up to soon, so be sure and subscribe to Ford Authority for non-stop Ford news coverage.