As the United Auto Workers (UAW) strike against Ford, General Motors, and Stellantis stretches into yet another week, we're starting to see more and more automotive assembly plants – and suppliers – affected by this labor action. On the Blue Oval side of the coin, Ford has laid off 600 workers at the Michigan Assembly plant and and 400 more at the Livonia Transmission plant and the Sterling Axle plant, which supply parts to the on-strike Chicago Assembly plant. Meanwhile LM Manufacturing – which makes seats for the Ford Bronco – temporarily laid off 650 workers last month, while the UAW strike is reportedly impacting around 30 percent of all automotive suppliers at the moment. However, for now at least, the union won't expand its strike to include additional plants from Ford, GM, or Stellantis, UAW President Shawn Fain has announced.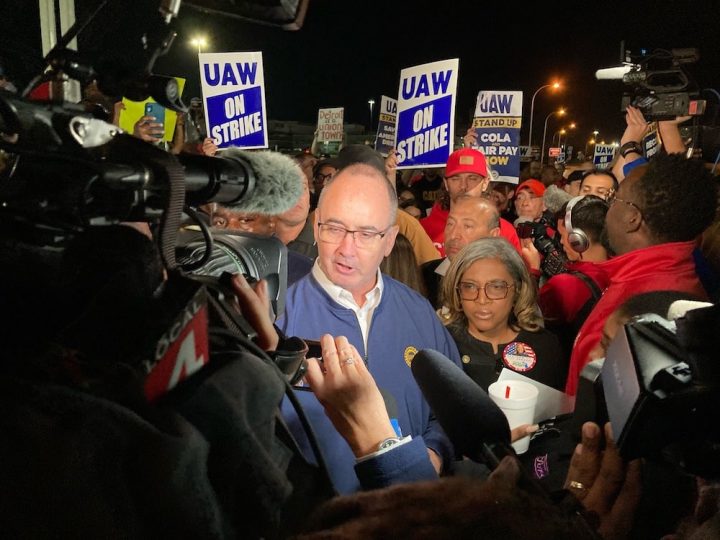 While speaking during the union's weekly strike update, Fain pointed out that it has made significant progress in talks with all three automakers, though it was apparently prepared to take action at GM's Arlington, Texas-based facility. However, GM ultimately reversed course and decided to include EV workers in its master bargaining agreement proposal, which prompted the UAW to leave that plant alone for now.
Thus, we'll seemingly go at least one more week without the UAW expanding its strike to include any additional manufacturing plants operated by the Detroit Big Three, while union officials plan to head to Chicago in the coming days to support workers on the picket line there. In the meantime, the public rhetoric between the union and automakers recently reached a new fever pitch, with Ford CEO Jim Farley and GM CEO Mary Barra both recently accusing the UAW of negotiating in bad faith and purposely holding up contract talks – allegations that Fain has called an outright lie.
UAW President Shawn Fain Livestream Update 10/6/23 https://t.co/Gw9YqEJNkA

— UAW (@UAW) October 6, 2023
Earlier this week, Ford submitted its seventh contract proposal to the union, seemingly bridging the gap between the two sides at least a little. The Blue Oval also continues to pay health care benefits to striking workers, which it isn't contractually obligated to do.
We'll have more on the UAW strike soon, so be sure and subscribe to Ford Authority for the latest Ford-UAW news, UAW news, and 24/7 Ford news coverage.