In recent years, vans have enjoyed a bit of a resurgence in popularity thanks to the "van life" movement, in which folks convert those vehicles into mobile living spaces of sorts – oftentimes, ones that are off-road and off-the-grid capable to boot. At the same time, we're starting to see more former law enforcement surveillance vans surfacing for sale, including this old school Ford E-Series and a 1999 E-450, both of which were once used by the FBI. Now, YouTuber Mav has spent some time in a different kind of ex-surveillance van, this time, one that was used by the New York Police Department (NYPD) that's now for sale at Spectrum Wholesale in Mechanicville.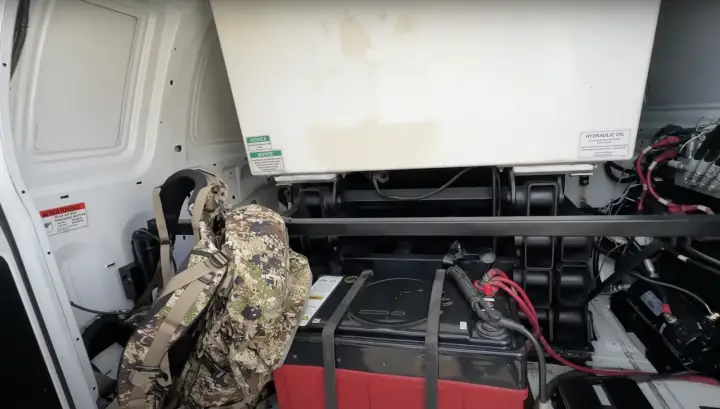 This particular build started life as a Ford E-350 that has been upgraded in a number of ways, including on the outside, where the van sports a rather tall Astro topper that allows one to stand up inside the cargo area, as well as a "sky capsule" that extends out of the top. With just 5,200 miles on the clock, it drives like a brand new van, however, and it's certainly a cool and unique find to boot – not to mention one heck of a conversation piece.
That capsule lifts itself a solid 30 feet up in the air, giving one a pretty nice view of the surrounding area, which might have been useful for NYPD officers during large events with massive crowds. For our resident YouTuber, it's more about providing a pretty slick aerial view of Lake George while he's out camping, however.
According to the seller, the NYPD sunk a whopping $250,000 into this van to transform it for law enforcement use, which is obviously a ton of money. However, for a fraction of that cost, anybody can purchase this one second-hand, barely used, and have a pretty darn cool vehicle to ride around in – or even take camping, as our host does in this video.
We'll have more cool videos like this to share soon, so be sure and subscribe to Ford Authority for more Ford E-Series news and around-the-clock Ford news coverage.