Over the past few months, we've seen a variety of vehicles that weren't really designed to be rally cars prove that they can, in fact, serve as suitable rally machines, a list that includes the Ford Bronco Sport crossover, Ford Bronco Raptor SUV, and Ford Crown Victoria Police Interceptor, each of which has been subjected to that type of test by the folks at Team O'Neill, a car control and racing school based in New Hampshire. In its most recent installment of this "will it rally?" series, host Wyatt Knox applied this same series of high-speed off-road testing to a 2022 Ford F-450 Super Duty pickup, and as it turns out, the heavy-duty hauler has some moves as well.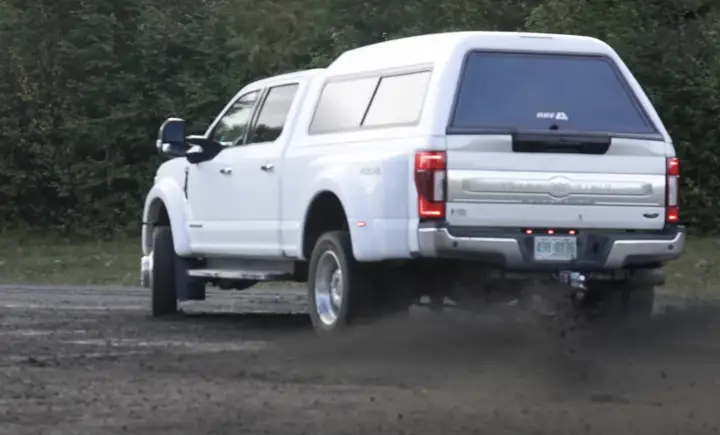 Compared to the other Blue Oval models Knox has tested, this gigantic 2022 Ford F-450 Super Duty dually is easily the one we'd be most skeptical of piloting around a rally course at high speeds, and watching this behemoth navigate those tight turns is, as it turns out, pretty fun to watch in action. This much is evident as Knox puts in work trying to get the 8,000 pound beast around corners without losing control, which he does multiple times.
However, shockingly, this dedicated tow rig actually performs quite well on the rally course, all things considered. Knox notes that he's able to "get big old drift angles" out of the Super Duty, and says that "it doesn't feel scary dangerous doing it," either. Instead, the heavy, stiff, ultra-wide rig remains nice and planted as he slings it around corners with its big tail hanging out, shredding the rear tires in the process.
When the dust settles, the Ford F-450 Super Duty manages to complete this course in 2:11.78, which places it dead last among every vehicle Knox has tested thus far. However, it did manage to post a better time than any vehicle in winter weather, at least, and Knox admits that he had a blast in the process – and truthfully, in this case at least, that matters far more than setting a record lap time.
We'll have more cool videos like this to share soon, so be sure and subscribe to Ford Authority for the latest Ford F-Series news, Ford Super Duty news, and continuous Ford news coverage.