In recent months, we've seen the mighty, V8-powered 2023 Ford F-150 Raptor R drag race all kinds of different types of vehicles, including the Toyota GR Supra, the Ram TRX, a C6 Corvette, the Cadillac Escalade-V, and the Dodge Durango SRT Hellcat, to name just a few. For the most part, the 2023 Ford F-150 Raptor R has managed to hold its own and beat most of those vehicles in terms of straight-line acceleration, but now, the folks at Hoonigan have subjected the muscular pickup to perhaps its toughest test yet in the form of the GMC Hummer EV.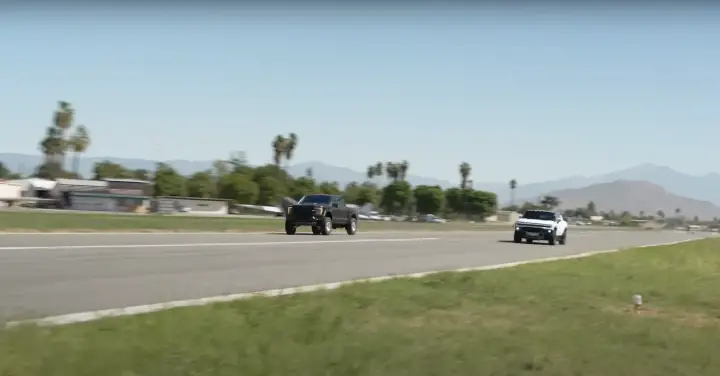 While the 2023 Ford F-150 Raptor R is packing the supercharged 5.2L V8 Predator – which generates 700 horsepower and 640 pound-feet of torque in this guise – it's actually at a bit of a disadvantage compared to the all-electric Hummer EV. That model is equipped with three electric motors that generate a total of 1,000 horsepower and 1,200 pound-feet of torque, which propel it from 0-60 in 3.3 seconds and down the quarter-mile in 11.9 seconds.
By comparison, the Ford F-150 Raptor R is capable of rocketing from 0-60 in 3.6 seconds and covering the quarter-mile in 12 seconds flat, even though it weighs far less than the Hummer EV – 6,077 pounds versus a whopping 9,640 pounds. Thus, this competition gets far closer in real-world conditions, and results can vary greatly depending on who's behind the wheel, coupled with other factors like weather conditions and traction.
That much is quite clear in this showdown as the Raptor R wheel hops its way to an early lead, only to watch the Hummer fly by it. However, the EV ran out of juice at the top end and barely hung on to take the win. Thus, for the second try, the Raptor R gets a truck length start, though that isn't enough, as it loses by an even larger margin this go-round. Just for the heck of it, the pair decide to try a third time – this time, a longer 1,500-foot race with a three-truck-length advantage for the Ford pickup – which is good enough to nab it a close win, proving yet again that even though we love ICE vehicles, EVs are astonishingly quick.
We'll have more cool videos like this to share soon, so be sure and subscribe to Ford Authority for the latest Ford F-150 news, Ford F-150 Raptor news, and ongoing Ford news coverage.