We've certainly seen our fair share of eyebrow-raising Ford-involved crashes in recent years, aside from the typical ones that happen on a daily basis. That includes one instance where an unsuspecting Ford Bronco Sport driver was wrecked when a distracted Toyota Tundra driver smashed right into the crossover in a construction zone, as well as another incident where a modified S550 Ford Mustang drove over some train tracks and wound up snagging its exhaust on those metal parts, ripping the rear bumper off in the process. Now, this video recently posted to Reddit shows another horrifying Blue Oval-involved incident between not just one, but two different FoMoCo models – a Ford Expedition and a Ford Super Duty water truck.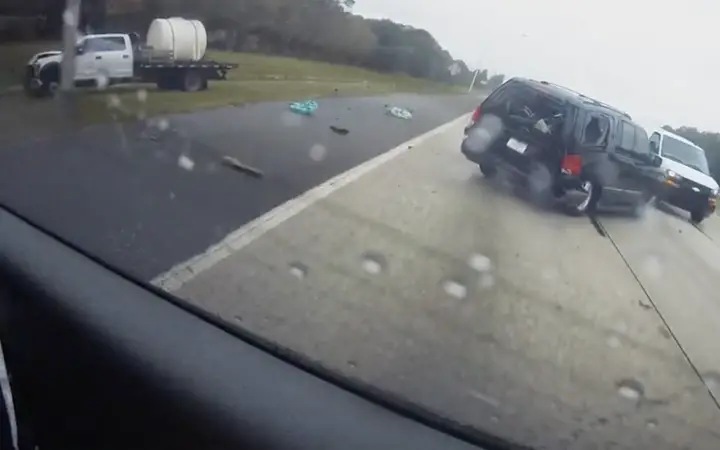 This action was caught on film by the vehicle in front of the Ford Expedition, whose driver was afraid they were also going to be involved in this rather horrifying accident, but managed to hit the gas, speed up, and prevent that from happening, lucky enough. As we can see, the Ford Expedition driver was traveling behind that vehicle, with a reasonable distance between the two. However, when the driver began to brake, so did the Expedition driver, and that's when chaos ensued.
The Super Duty water truck clearly either didn't see that the Expedition was braking, or perhaps just didn't have enough time to slow down, as it might've been following too closely. Either way, the big truck smashes into the rear of the big SUV, sending it sideways and facing oncoming traffic in the other lane, while it wound up in the middle of the median.
Water Truck Takes Out Expedition [oc]
byu/mrjdog1777 inIdiotsInCars
Luckily, the drivers in the other lane acted quickly and avoided the spinning Ford Expedition. The SUV came pretty close to the rear of the filming vehicle as well, but ultimately, it certainly seems as if things could have been much worse.
We'll have more wild videos like this to share soon, so be sure and subscribe to Ford Authority for more Ford Expedition news and comprehensive Ford news coverage.