Ford Motor Company sales decreased five percent to 149,938 units during October 2023 in the United States. Sales decreased at both Ford and Lincoln.
FoMoCo Sales Notes – U.S. October 2023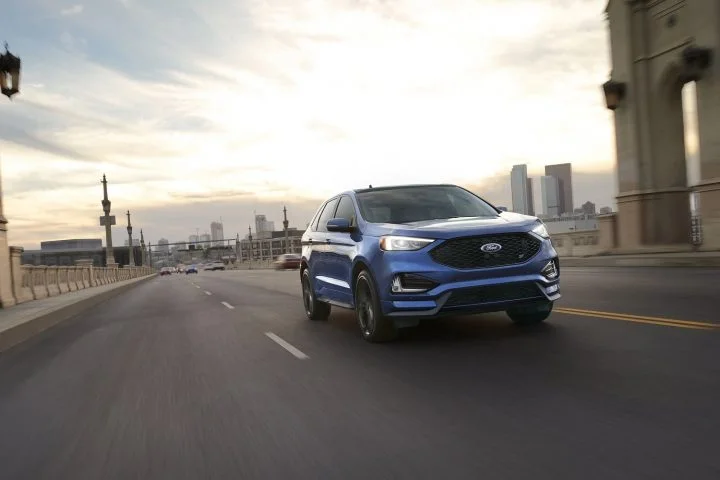 Brand & Model Sales
Ford sales decreased 5.3 percent to 143,064 units:
Lincoln sales decreased 4.5 percent to 6,874 units:
During the first 10 months of the 2023 calendar year, Ford Motor Company sales increased 7.7 percent to 1,658,010 units.
Sales Results - October 2023 - USA - Ford
| MODEL | OCT 2023 / OCT 2022 | OCTOBER 2023 | OCTOBER 2022 | YTD 2023 / YTD 2022 | YTD 2023 | YTD 2022 |
| --- | --- | --- | --- | --- | --- | --- |
| BRONCO | -56.03% | 4,805 | 10,928 | -1.07% | 96,273 | 97,315 |
| BRONCO SPORT | +12.67% | 8,306 | 7,372 | +19.84% | 104,681 | 87,348 |
| E-SERIES | +14.25% | 4,218 | 3,692 | +33.98% | 34,720 | 25,915 |
| E-TRANSIT | -49.74% | 387 | 770 | +14.72% | 5,916 | 5,157 |
| ECOSPORT | -100.00% | 0 | 1,611 | -90.98% | 2,508 | 27,797 |
| EDGE | +114.59% | 11,015 | 5,133 | +12.32% | 81,716 | 72,756 |
| ESCAPE | +26.16% | 12,573 | 9,966 | -2.59% | 116,186 | 119,277 |
| EXPEDITION | -23.11% | 4,704 | 6,118 | +28.09% | 61,131 | 47,725 |
| EXPLORER | +4.70% | 16,634 | 15,887 | -10.09% | 154,766 | 172,130 |
| F-150 LIGHTNING | +52.38% | 3,712 | 2,436 | +42.66% | 15,972 | 11,196 |
| F-SERIES | -7.73% | 49,797 | 53,969 | +19.20% | 610,907 | 512,516 |
| GT | -100.00% | 0 | 8 | -62.65% | 31 | 83 |
| HEAVY TRUCKS | -16.45% | 1,178 | 1,410 | +15.15% | 12,376 | 10,748 |
| MAVERICK | +3.22% | 9,530 | 9,233 | +24.45% | 75,960 | 61,035 |
| MUSTANG | +10.97% | 4,270 | 3,848 | -2.13% | 39,585 | 40,446 |
| MUSTANG MACH-E | -10.57% | 2,732 | 3,055 | +1.51% | 31,614 | 31,144 |
| RANGER | -88.70% | 453 | 4,009 | -36.47% | 31,956 | 50,302 |
| TRANSIT | -21.61% | 7,755 | 9,893 | +35.81% | 100,278 | 73,839 |
| TRANSIT CONNECT | -44.51% | 995 | 1,793 | -31.20% | 15,119 | 21,976 |
| FORD TOTAL | -5.34% | 143,064 | 151,131 | +8.37% | 1,591,695 | 1,468,705 |
Sales Results - October 2023 - USA - Lincoln
| MODEL | OCT 2023 / OCT 2022 | OCTOBER 2023 | OCTOBER 2022 | YTD 2023 / YTD 2022 | YTD 2023 | YTD 2022 |
| --- | --- | --- | --- | --- | --- | --- |
| AVIATOR | -3.29% | 1,911 | 1,976 | -37.94% | 11,587 | 18,672 |
| CORSAIR | -9.15% | 2,353 | 2,590 | -13.25% | 19,836 | 22,867 |
| NAUTILUS | -0.90% | 1,318 | 1,330 | +11.52% | 20,215 | 18,127 |
| NAVIGATOR | -0.62% | 1,292 | 1,300 | +40.45% | 14,677 | 10,450 |
| LINCOLN TOTAL | -4.47% | 6,874 | 7,196 | -5.42% | 66,315 | 70,116 |
Sales Results - October 2023 - USA - FMC Totals
| BRAND | OCT 2023 / OCT 2022 | OCTOBER 2023 | OCTOBER 2022 | YTD 2023 / YTD 2022 | YTD 2023 | YTD 2022 |
| --- | --- | --- | --- | --- | --- | --- |
| FORD TOTAL | -5.34% | 143,064 | 151,131 | +8.37% | 1,591,695 | 1,468,705 |
| LINCOLN TOTAL | -4.47% | 6,874 | 7,196 | -5.42% | 66,315 | 70,116 |
| FMC USA TOTAL | -5.30% | 149,938 | 158,327 | +7.75% | 1,658,010 | 1,538,821 |
About The Numbers
Further Reading & Sales Reporting