PaxPower has been building versions of the Ford F-150 that The Blue Oval doesn't for quite some time now, with offerings ranging from the off-road-capable and reasonably priced Alpha to a Raptor with a flatbed and 5.0L V8 Coyote-powered Ford F-150 Raptor conversions that offer an alternative to the Ford F-150 Raptor R. Now, PaxPower is back with yet another version of the Ford F-150 Raptor that we can't buy in showrooms – a regular cab pickup with two doors instead of four.
While most consumers prefer a four-door SuperCrew pickup these days – which is precisely why that's the only way one can buy a Ford F-150 Raptor now – there are certainly plenty of folks out there that love regular cab pickups, which makes this new single cab conversion a pretty desirable machine. As an added bonus, regular cab pickups weigh less than their SuperCrew counterparts – – around 1,700 pounds less than a Raptor R, in this case – which helps improve performance, to boot.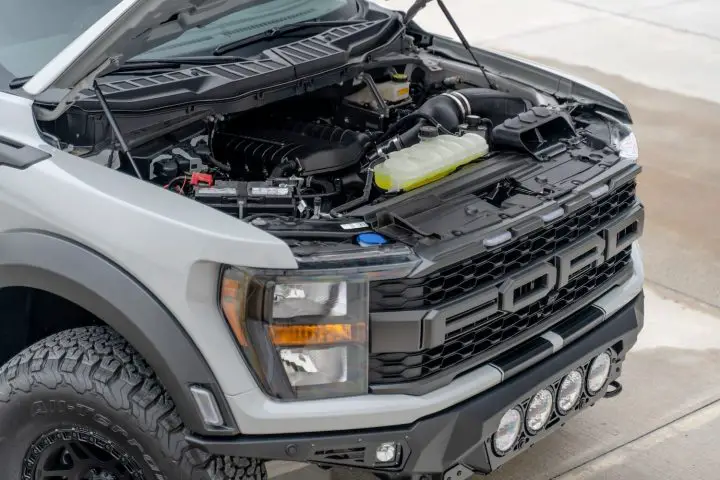 PaxPower starts out with a regular cab F-150 equipped with the 5.0L V8 Coyote engine and then gives that powerplant a 3.0L Whipple supercharger, a cold-air intake, an upgraded cooling system, and a beefed-up fuel system, which lifts output all the way up to 775 horsepower – good enough to propel this pickup from 0-60 in around 3.5 seconds.
Along with swapping out all of the body panels with OEM Raptor parts – plus custom fabricated bedsides – PaxPower also gives the regular cab pickup the Raptor's beefy suspension as well, and even adds the special interior touches present on that particular model. The end result is something that's as close as one can get to a factory-built, regular cab, V8-powered Ford F-150 Raptor, but PaxPower also offers customers the option to add any kind of aftermarket upgrade their heart desires, too – which makes it a pretty darn nice alternative to what's out there on dealer lots right now.
We'll have more on aftermarket builds like this soon, so be sure and subscribe to Ford Authority for the latest Ford F-Series news, Ford F-150 news, Ford F-150 Raptor news, and continuous Ford news coverage.