The Blue Oval has long been associated with organizations working to cure cancer – or at least help those that have been diagnosed with this terrible disease, with dealers teaming up to cover parking costs for breast cancer patients at hospitals, a one-off 2021 Shelby GT500SE being given away to support cancer research efforts, and a custom SEMA 2021 Ford Mustang Mach-E GT that was auctioned off to benefit the Austin Hatcher Foundation some time ago, to name just a few. Recently, a group of Ford Bronco enthusiasts carried on this tradition by hosting a special parade for a young lady with terminal cancer in a truly heart-warming moment as well, according to KSL News.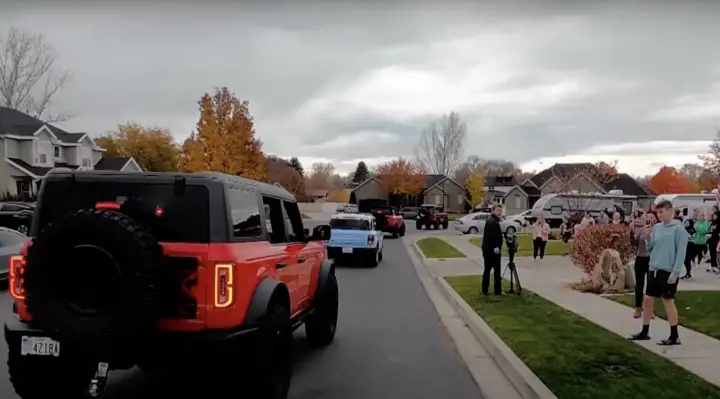 American Fork, Utah resident Samantha Corey is only 17 years old, but was diagnosed with terminal cancer and suffered a bit of a relapse recently that means she may only have around a year or so to live. Thus, when Ford Bronco owner Sean Henderson found out that she was a huge fan of The Blue Oval's rugged SUV, he decided to do something special to make her days a little brighter – organize a parade of Broncos to drive by her house.
Henderson reached out to his fellow Ford Bronco owners in the area to gather as many as possible, but he wasn't exactly sure how this impromptu parade might turn out. Luckily for him, the community heeded his call in a major way, with around 50 Broncos of all generations arriving to participate. "We didn't know if five were going to show up or a hundred were going to show up. We had no idea," Henderson said. "I can't even imagine going through it, so obviously everybody's hearts go out to the family and this girl."
"When we came out, I saw two Broncos and I was like, did you see that?" Corey said. "I don't know how to explain it. They are just my special car. Every time I see one, I get excited. I can't believe that just happened. I am so happy right now. (And) I don't even know half of them and they went way and they gave up their Saturday morning to come drive in their car and say hi. It's a very good day. Thank you to everyone."
We'll have more Ford-related news like this to share soon, so be sure and subscribe to Ford Authority for more Ford Bronco news and ongoing Ford news coverage.